Americana Music reviewer Chris Griffy (examiner.com) wrote a classy review of Antsy's new "Somewhere Past These Gravel Roads" CD.  He has kindly provided us permission to repost it here.  (see the original at http://www.examiner.com/article/review-antsy-and-the-troubs-somewhere-past-these-gravel-roads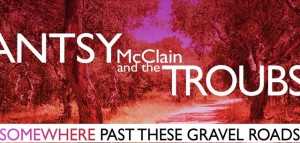 In the mid-'90s, The Trailer Park Troubadours looked to be one of the next breakout bands to come out of Nashville. With momentum from a win on Charlie Daniels' Talent Roundup and backing from Waylon's drummer Richie Albright, the band had everything on their side except for a sound that couldn't easily be put into a genre label. They were too comedic to be a country act, too serious to be a novelty act, and too earnest in their embrace of trailer park culture to be hipster ironic. For most bands, that would have been the end as they returned to their day jobs or labored around whatever small clubs they could squeak a living from. For the Trailer Park Troubadours, it became their thing.
Slowly the songs started to be a little bit less Dr. Demento and a little more reflective. Instead of songs about roadkill and croquet champions, their songs started to become proud statements about the benefits of not making it, about having time to spend with family, about being able to shop at Wal-Mart without being stopped by fans, about the everyday things that the rock stars they never became could never have had.
It hasn't been an easy road the past two decades. The band has gone through more personnel changes than Guns & Roses, with vocalist and primary songwriter Antsy McClain being the only constant member, but the eternal optimism, the ability to take the smallest detail of everyday life and celebrate it as a blessing, and the keen observational lyrics have all remained. So it should come as no surprise that a period of major upheaval in McClain's personal life led not to a bitter and spiteful album, but to a nuanced look at life, love, and loss.
"Somewhere Past These Gravel Roads" is credited to Antsy McClain and the Troubs, officially removing the Trailer Park that had long started to be phased out of their albums. McClain's always been at his songwriting best when he put his pen to melancholy love songs and "Somewhere Past These Gravel Roads" has that in spades. Album standout "A Life Like Ours" almost reads like a modern day Troubs mission statement, with its refrain of "a rich man dreams of paradise and sees a life like ours."
But that isn't to say everything on "Somewhere Past These Gravel Roads" is all happiness. To have an album full of "A Life Like Ours" would feel forced and one of the most endearing things about McClain and The Troubs is you never get the sense that they're forcing it. The blues-rocker "No Train" is as close to a bitter missive as you'll likely get from a McClain song, but even this is delivered with a gentle poke at common sayings that it's an easy pill to swallow. More in line with McClain's style is the song that is sure to be the live favorite from the album, "Butt Dial Blues", which sees a man receiving his long awaited return call from a would-be lover, only to discover that he's been butt-dialed.
Another comic highlight is "Keanu Reeves, Kenny G, and Me." Here McClain finds that all of his favorite movies and bands dredge up memories of a romance lost, leaving him stuck with nothing but Keanu Reeves films and Kenny G albums.
Album closer "Wheels in Motion" wraps the album up nicely, with a "circle of life" narrative about McClain's memory of learning to ride a bike from his father, to teaching his own son to drive, to watching his grandchildren and looking forward to teaching them to ride their own bike someday. Here is the essence of McClain's songwriting, sentimental without being sappy, gut wrenching without turning into a Celine Dion parody.
One thing that is different about this album is that The Troubs, for this album made up of McClain's California-based live band, gets much more room to show off than on past works. From rocking blues guitars to classic country twang to a surprisingly successful folk-rock reimagining of "Crazy Train", the instrumentals on this album are very much out front.
"Somewhere Past These Gravel Roads" isn't going to make Antsy McClain the rock star that he probably dreamed of being back in 1995. But listening to the words that make up the album's fourteen tracks, you get the sense that he wouldn't have it any other way. What the album will do, though, is prove familiar enough to satisfy his small but passionate long term fanbase while providing a good jumping on point for newcomers who have heard him on KPIG or his recent PBS special.