More than you ever cared to know about Antsy McClain and his musical cohorts, The Trailer Park Troubadours
Antsy McClain on IMDB • Antsy McClain on Instagram • Antsy McClain on Youtube • Antsy McClain on Facebook • Antsy McClain and The Trailer Park Troubadours on Facebook • Antsy McClain on Spotify • Antsy McClain Podcast
Antsy's new solo project, The Indelible Man, was recorded with band mates Chris "Spoons" Long (drums), Tom "T-Bone" Hamilton (bass), George Harris (guitar) and Nomad Ovunc (keyboards). The 16-track, all-original album was recorded at George Harris' Creative World Studio in Largo, Florida, and is being mixed and mastered as we speak. Antsy has been splitting his time between his Nashville home and St. Pete Beach, Florida (Thanks, Lisa and Brett), where he has been writing, recording and healing after the long illness and death of his wife and creative partner, Deana Lynn in September of 2022.
"Getting away from it all," explains Antsy, "And hanging at the beach for the winter was very healing. This has been a weird time, accentuated certainly by pain and grief, but also (and in no small amounts) gratitude and peace. I have so many lovely people in my life who have been indescribably important as I've been trying to get by day to day and put my future together, having no idea what that looks like at the moment."
"There were many days," Antsy continues, "When I didn't get out of bed. I told friends I was done performing, done traveling, done with it all. I just didn't give a damn about much of anything. But I kept writing. And interestingly, I wrote a good deal of my more funny or quirky songs, and that made me very happy. I think working on this album pulled me out of the darkness, and I'm beginning to feel somewhat normal again. Well, as normal as I'll ever be, anyway."
The Indelible Man was recorded by Antsy's longtime friend and Florida bandmate, George Harris, whose studio in Largo, just up the coast from St. Pete, is homey, comfortable and just what the Doctor ordered. (George's nickname happens to be "Dr. Lola," which is another story for another day.)
"Each day of recording would start with a hot cup of fresh ground coffee, painstakingly pressed by George himself in what almost seemed like a sacred tea ceremony," recalls Antsy, "George takes his coffee very seriously. We'd sip through an episode or two of South Park, and then we'd begin. It was very relaxed."
As George and Antsy came to the final process of the album, tracks were sent to collaborator and California band member, "Loose Bruce" Wandmayer, who was to put horn tracks on three of the songs. Sadly, Bruce passed away on April 22nd from complications of a head injury sustained in a fall at his home.
"Bruce and his wife Hilary have been dear friends for a long time," Antsy continues, "Bruce was simply one of the most creative forces I have ever known. You just think someone like that is gonna live forever. It's gonna be really weird not having his mischievous smile and master musicianship directly to my right when I perform out there again."
Two songs on the album are actually several years-old, having been performed by Antsy at after-parties and gatherings with friends: "Hold It," which Antsy wrote on a bus while touring with guitarist, Tommy Emmanuel in 2015; and "Curly Black Hairs in the Soap," which was written in the early 2000's and, Antsy would like to emphasize, was not inspired by actual events. He had always suspected the two songs were a bit too "blue" for a Trailer Park Troubadours show. Deana Lynn, for one, couldn't have disagreed more. "She kept encouraging me to put them on an album," adds Antsy, "And I almost did for 'Late Bloomer' (Antsy's previous double album), but I chickened out. Again," he laughs.
When asked what he hopes for this album, Antsy pauses and looks out the window into his back yard. "I guess I just want listeners of this album to enjoy the arc, to flow along with the messages of the songs and enjoy how it makes them feel. There are a few sad tunes in there, designed to give that cathartic, shared experience people have when they listen to someone express themself in loss. Feeling sad is important sometimes. It just is. But I always try and lift us all up at some point. I'll never drive you out to the dark side of town, drop you off and leave you to find your own way back. I could never do that to my friends."
When you preorder this album, it helps us move swiftly to the manufacturing process so we can get this wonderful collection of songs to you soon. All preordering cousins get their CDs signed by Antsy and numbered in order of your purchase.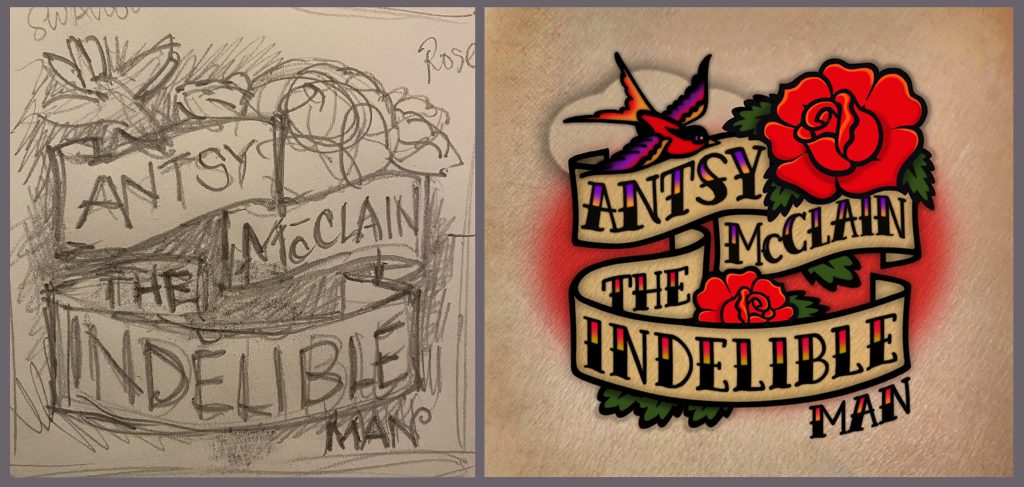 The Liner Notes for The Indelible Man
1. All My Days 1:43 
2. Alligator Boots 3:46
3. Ballad of the Invisible Boy 4:27 
4. The Autumn Trees 3:25
5. When Your Cool Uncle Goes Bad 3:05
6. Pre Approved 2:32
7. I Get You 2:59
8. Big Boy Pants 2:33
9. All My Isms 2:19
10. Curly Black Hairs in the Soap 3:13
11. Way Cool World 3:37
12. The Dreams of My Friends 3:25
13. Hold It 3:19
14. Cover Up Lover 2:36
15. Everyone's a Household Name 3:21 
16. Things I Would Tell You 2:04
All songs made up by Antsy McClain
Produced by Antsy McClain
Recorded and mixed by George Harris at Creative World Studio, Largo, Florida.
Tracks 1, 3 and 11 recorded by Marv Treutel at Phat Marv's Studios, Nashville.
Mastered by Alex McCollough, True East Mastering, Nashville
Antsy McClain: Vocals, guitar, harmonica, keyboards on 1, 4 and 6, hambone on 1
George Harris: Guitar, banjo, vocals on 13
Nomad Ovunc: Keyboards 
Chris "Spoons" Long: Drums, vocals on 13
Tom "T-Bone" Hamilton: Bass
Daniel Seymore: Bass on 1 and 12
Ed Nelson: Ukulele on 7
Latonya Oliver: Background vocals on 11
The Field Trip Singers: Background vocals on 15 
The Field Trip Singers are: Joan Cuneo, Lou Cuneo, Sue Butler, Chip Desnoyers, Jacki Desnoyers, Monique LeCompte, Janet Hellgren, Denny Hellgren, Raenel Toste, Joel Toste, John Pfeifer, Howie Webber, Jason Curtis, Brian Smith, Rick Williams, Debbie Lum, Teri Netherby, Nalani Rothrock, Joshua Lamkin, Carol Hachmeister, Cheryl Behlmer, Eric Behlmer, Debbie Lum, Liz Braman, Cheri Brown, Bobbi Rogers, Sam Bentjen, Emma Bentjen, Christy Russell and David Russell. Thanks, cousins. We had a ball. 
Thank you to the unforgettable Deana Lynn, who was a true partner in every sense of the word. I will love you forever. 
Thank you, Loose Bruce Wandmayer, for coaching me on this incredible journey and charming your way into all of our hearts. 
Thank you, Nestor "Neutron" Eaton, for teaching me that the music business is just about people. I miss you, buddy. 
Thank you, George Harris, for providing a safe place for me to laugh, cry and make a lot of noise. (#therapy) After talking about it for years, we finally made an album! 
All Over the Place
If this album feels schizophrenic, bipolar or, as some like to say, "all over the place," that's because it is. As the author of these songs, I was admittedly all over the place – physically and emotionally – while making this album. In October, 2022 – after losing the love of my life to cancer – I ventured out on a road trip and didn't stop moving for 7 months. I packed some clothes, my guitar and a bit of recording equipment and I started driving. I left Nashville for Johnson City,  Winston-Salem, Raleigh/ Durham (Thank you, Lauren, Jake, Em, Anna Jane and Henry), Rehoboth Beach, Baltimore (Thank you, Tina, Brian, Michael and Pat), Hells Kitchen, Brooklynn, Roanoke, Memphis, St. Pete Beach (Thank you, Lisa and Brett, and thank you, Michelle), Chicago, Oklahoma City (Thank you, Danielle, Edgar, Karen and Marco), Savannah and Atlanta (Thank you, Sascha and Kevin). I stayed sometimes for a night or two and sometimes for weeks in those cities. I anchored in Florida long enough to record this album. I told few people where I was. To my friends near those places, I apologize. I was not very good at being social. So I drove. And I wrote. I wrote a lot. I cried when things were sad and I laughed when things were funny.
I was all over the place. 
– Antsy, April, 2023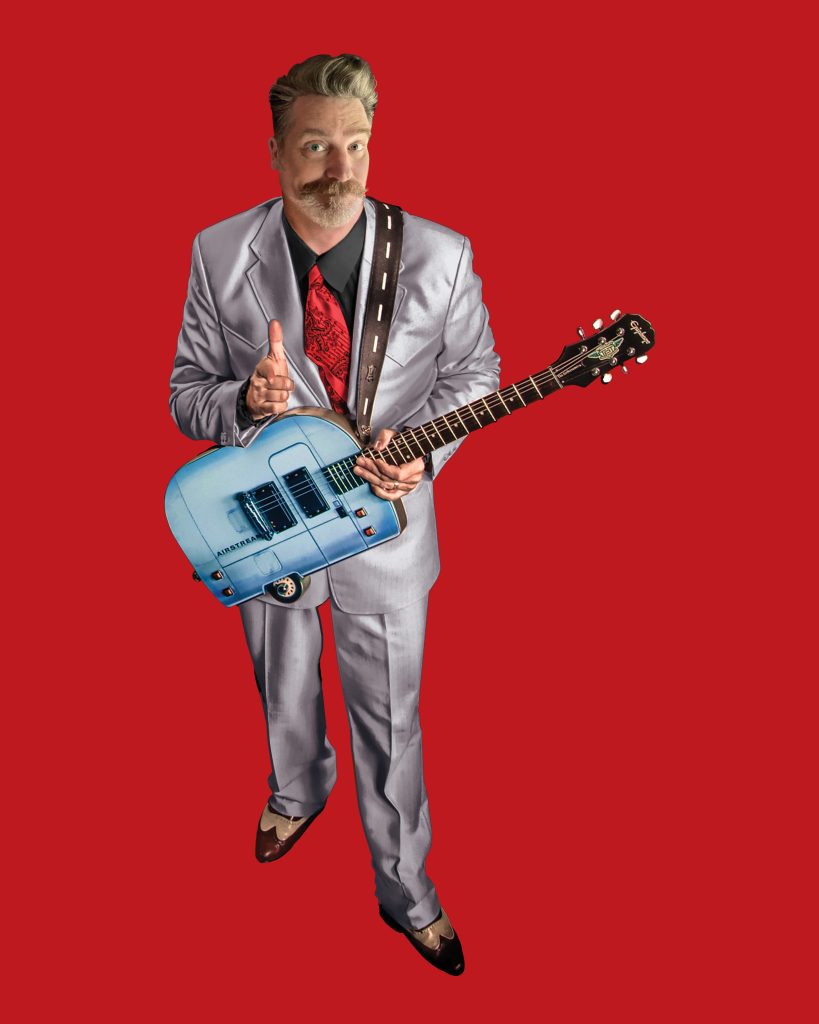 It's a 23-track double album download for just 25 bucks.
---