Hi, cousins! 
I sent an e-mail out to all our Woodflockers, but sometimes they don't get to everyone. Please forward this on to fellow Woodflockers you may know so everyone gets the message. Thanks! 
I'm sure you have been watching the news like we have, with fingers crossed, hoping for the best regarding the fires that are fast encroaching Northern California's Camp Tehama. Uncle Fred and I, along with career firefighter and first-time Woodflocker, Lou Cuneo, have been watching closely this past week, and today we made the decision to postpone Woodflock until further notice. We'll put some options together and give everyone plenty of choices for 2022, perhaps going back to our Memorial Day schedule, but we'll keep you posted. 
I'm sorry for the inconvenience, but this is out of our hands, and our main concern is the safety and well being of our friends and Woodflock family. In times like these, it's best to have an over abundance of caution. The fires are just too close for comfort, and the air health index is anything but ideal in that area. In the meantime, let's wish our fire fighters well as they continue to work tirelessly to manage the fires. 
Stay safe out there, cousins. I am bummed that we can't get together (again), but we will be in touch soon with reschedule plans.
– Antsy, Deana Lynn and the Woodflock Staff
August 5 – 8, 2021 • POSTPONED! DETAILS LATER • $449/person! Children under 12 free with paid adult. We have the campground from Thursday night until Sunday at Noon. Thank you for hanging on with us through this weird time. Scheduling events has been tough, but we are focused on August 5 – 8, 2021 for our 11th Woodflock! We appreciate your cooperation as we have held funds in escrow to pay for the upcoming event, campground, staffing, food and entertainment. If you have paid for last year, your fee will fold into this year's event. No further sign up is necessary. If you haven't signed up, click HERE to get on it it. See you there!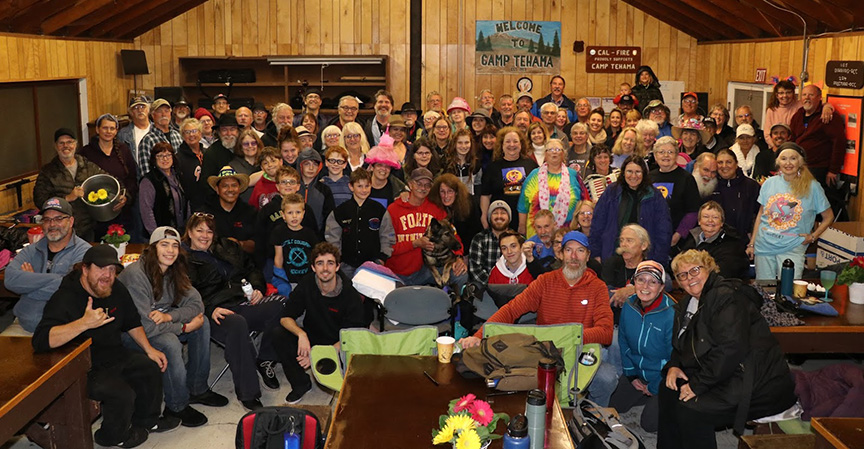 This is our 11th YEAR of Woodflock, the Flamingohead Family Reunion we host each year, and we are excited to share some positive changes with you.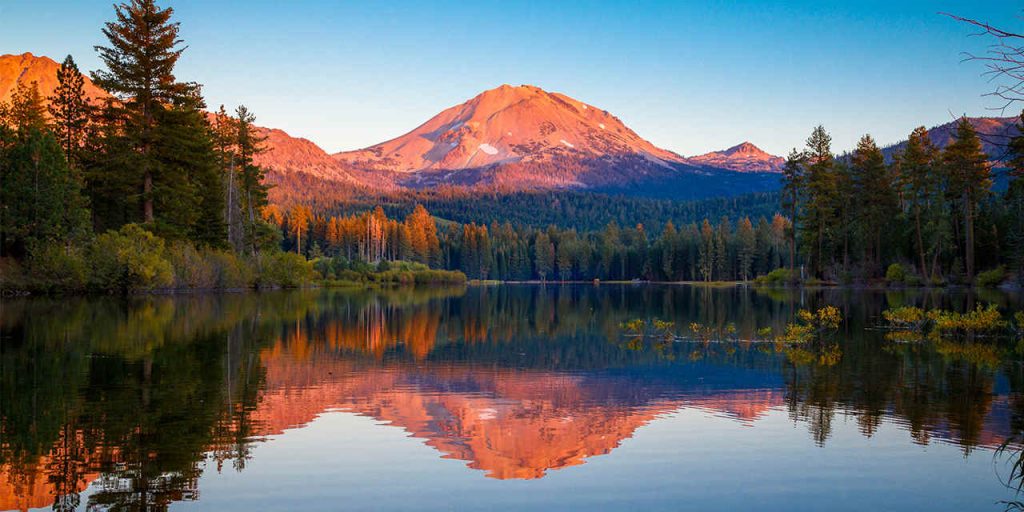 Three whole days of music, laughter, crafts and family under the pine and fir trees of Northern California, featuring Antsy McClain and The Trailer Park Troubadours, Michael McNevin and several other other musical guests to be announced
Price includes cabin if you need one (while they last), breakfast and dinner daily, all the entertainment and workshops, guided meditation after breakfast and all the good mojo you can soak up in three (or four) days.
Where: Camp Tehama Campground, Mill Creek, CA, 40550 Highway 172, Mill Creek, CA 96061 (Location subject to change with Park availability during pandemic period. But we'll keep you posted as soon as we learn anything.)
Camp Tehama is on the edge of beautiful Lassen National Park, home of some incredible volcanic rock formations, hot springs and scenic lakes.
Antsy McClain and members of The Trailer Park Troubadours – Singer/songwriter Antsy McClain, along with members of the band, will be performing throughout the weekend, conducting music, writing and creativity discussions. Antsy McClain is a singer/songwriter, author and artist whose humble upbringings in an American trailer park has generated some of Americana's most humorous and poignant songs. Years ago, Antsy envisioned a small gathering of friends (he doesn't like the word "fan") where music and laughter would echo through the woods and friendships would be forged. With the help and support of a handful of staffers engaged in making Woodflock a success, they have gone from a few dozen people the first year to busting out at the seams.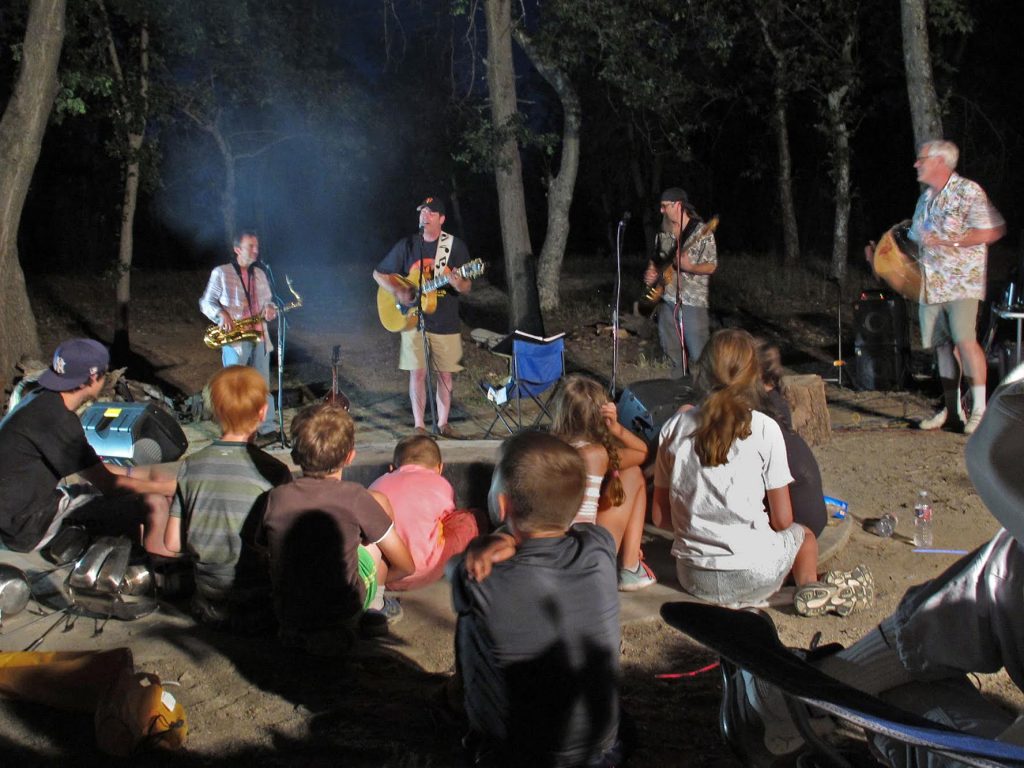 Michael McNevin – Woodflock favorite Michael McNevin is back to perform throughout the weekend, and head up those after-hours jam sessions that are always a lot of fun. McNevin's songs are unapologetically sentimental while not being sappy or overworked. Drawing on his formative years in the small town of Niles, California (where he still lives), McNevin paints poetic portraits of an America we all recognize, but one from which we may have strayed. But in McNevin's nostalgic narratives, we feel hope even in the face of certain change. http://www.michaelmcnevin.com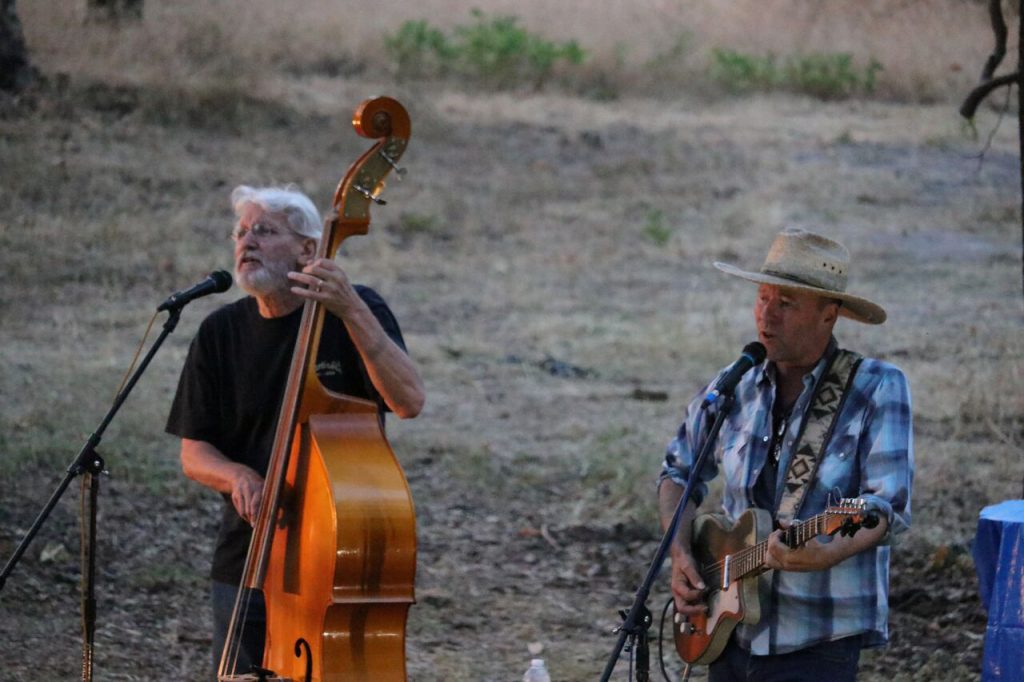 August 5 – 8, 2021 • $449/person. Children under 12 free with paid adult CLICK HERE to get in on it!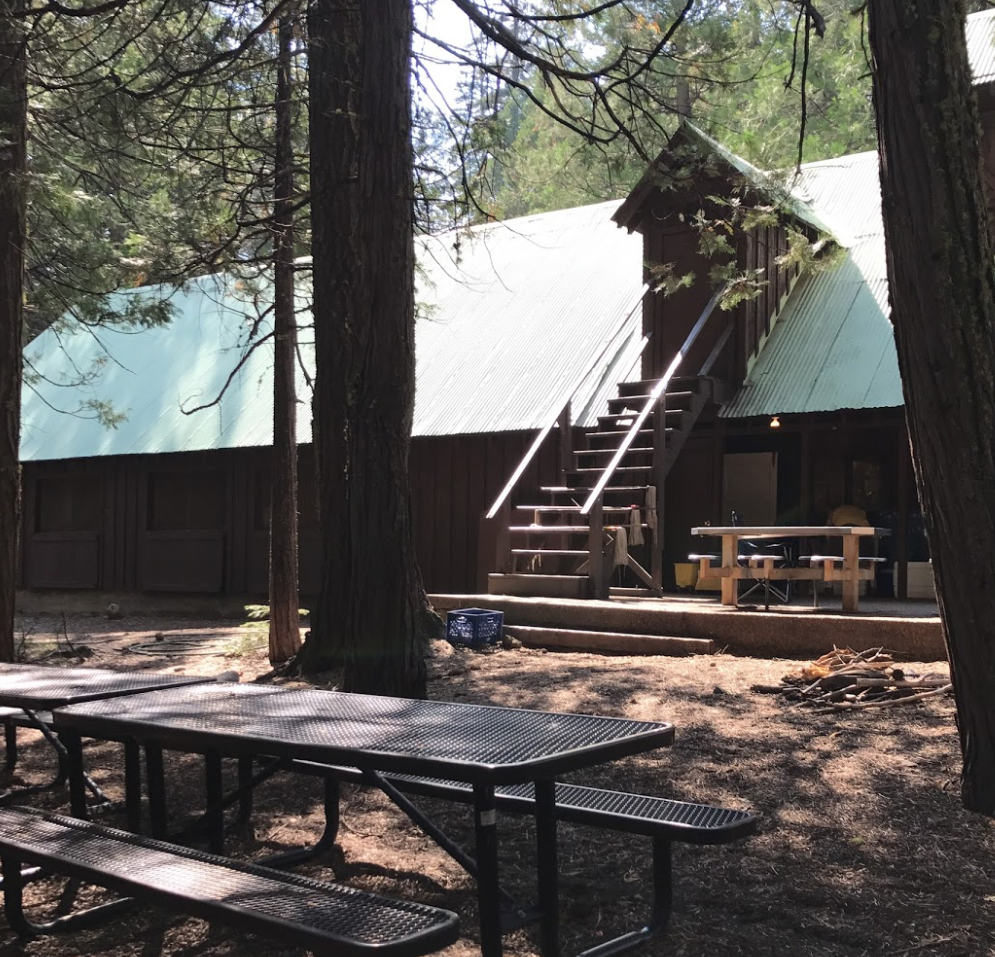 Dinners on Friday, Saturday and Sunday will be provided. Breakfasts on Saturday and Sunday. Lunch is on your own, as we don't want to disrupt the day's workshops and gatherings, but we're usually just fine with some fruits and a granola bar, etc. NOTE: There will be vegetarian options at all meals, but if you have allergies or other food restrictions, please provide for yourselves.
Arts and Crafts – The craft tent, always lovingly supplied by Katie and Bill, will be there at the center of activities. We'll find a nice shady spot for it as usual, and let it be the creative center we've known and loved for t-shirt painting, jewelry, lawn art, etc., these last 9 years. Thanks, Katie and Bill!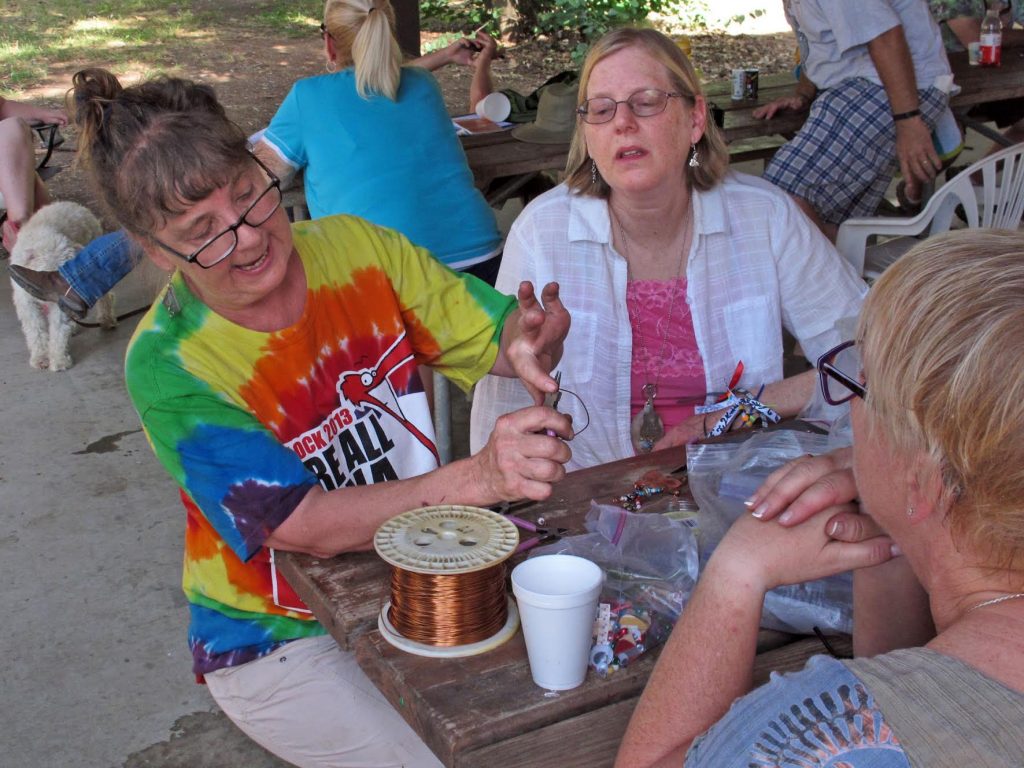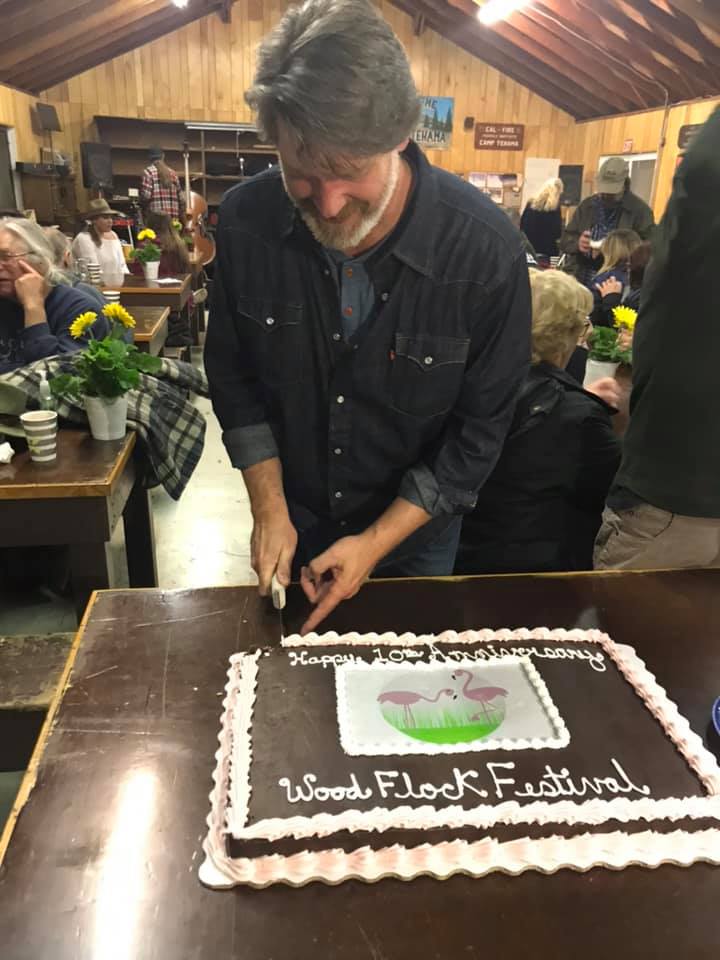 August 5 – 8, 2021 • $449/person. Children under 12 free with paid adult CLICK HERE to get in on it!
NOTE: Pet policy: Insurance concerns have forced us to implement a change in pet policy. As we have had some incidents with some of our canine cousins (staffers and guests have been bitten, dog fights have freaked out young kids, etc.,) we have to contain pets to the RV parking area only. You can bring Fluffy and Spike to Woodflock, but they can no longer accompany you in the other common areas such as concert, cabin and dining areas. When you take them out for potty breaks or walks, they must be on a leash at all times and kept in the designated area. Our insurance folks urged us to ban pets altogether, but we agreed to give this compromise a go, as we love our pets too, and we get why you'd want to have them with you. We appreciate your cooperation.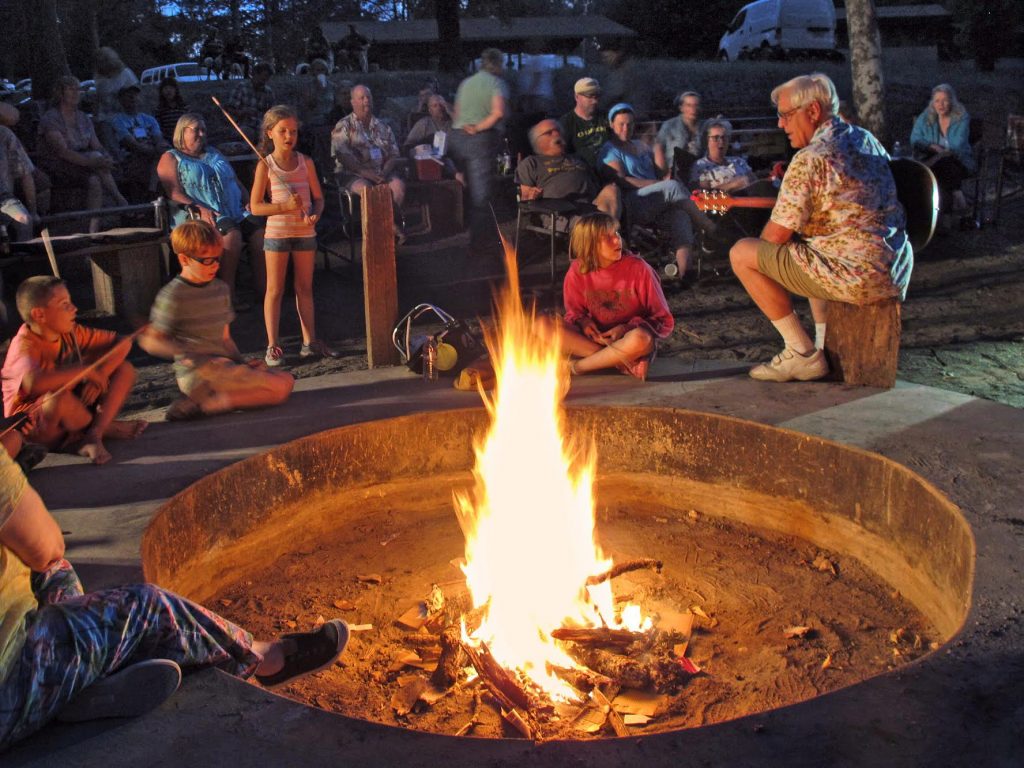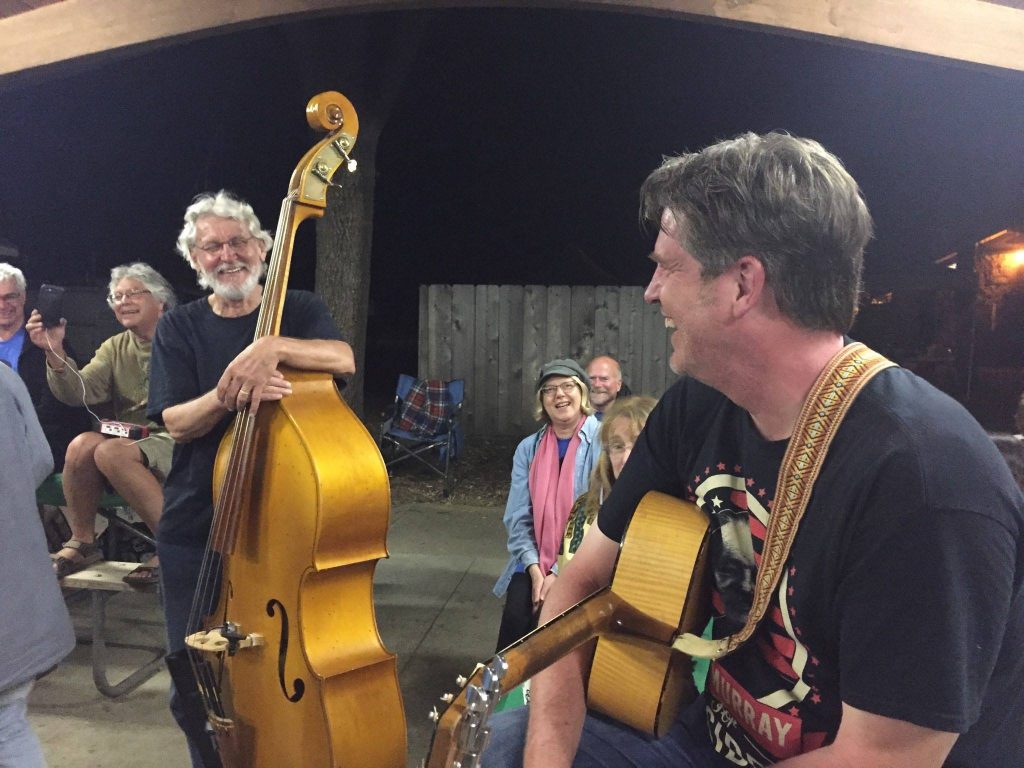 Comfortable bathrooms and showers are provided on site.
RV's and cars must be parked in the designated parking area. They may not be connected to sewer, water or electrical. There are nice full service spots a mile or so away, and which will need to be reserved asap. Please e-mail Uncle Fred at xtrafred@gmail.com for reservation info.
Tents – Tent spots are plentiful. Uncle Fred and staffers will be on hand as you arrive to help you find just the right spot if you need assistance.
Cabins – We have 20 cabins. Each cabin sleeps about 7, with several beds inside. The beds are metal framed bunk beds with vinyl covered mattresses. (Think Scout Camp when you were a kid and you get the picture.) Many choose to bunk up with friends. Just let Uncle Fred know so we can get an accurate cabin count. Bring your own air mattresses, pillows, bedding etc., to provide your accustomed comfort level.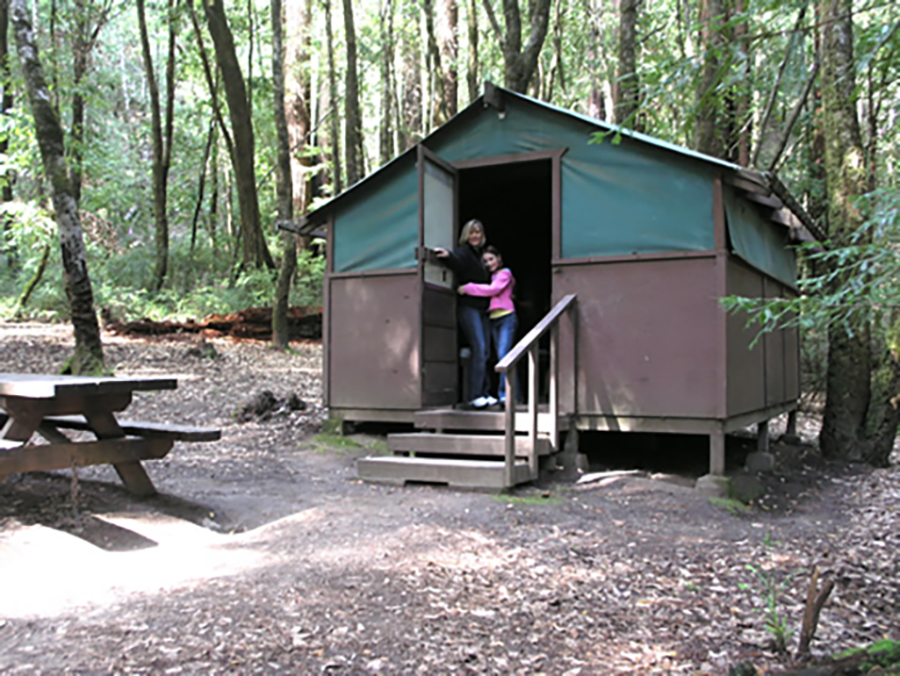 If you have any questions about any of the above information, you can e-mail us at thetroubs@unhitched.com and we will get back to you as soon as we can. For more urgent inquiries, call Uncle Fred at 530-529-3733.
Thank you for your interest in Woodflock 11, The Flamingohead Family Reunion. We'll see you there!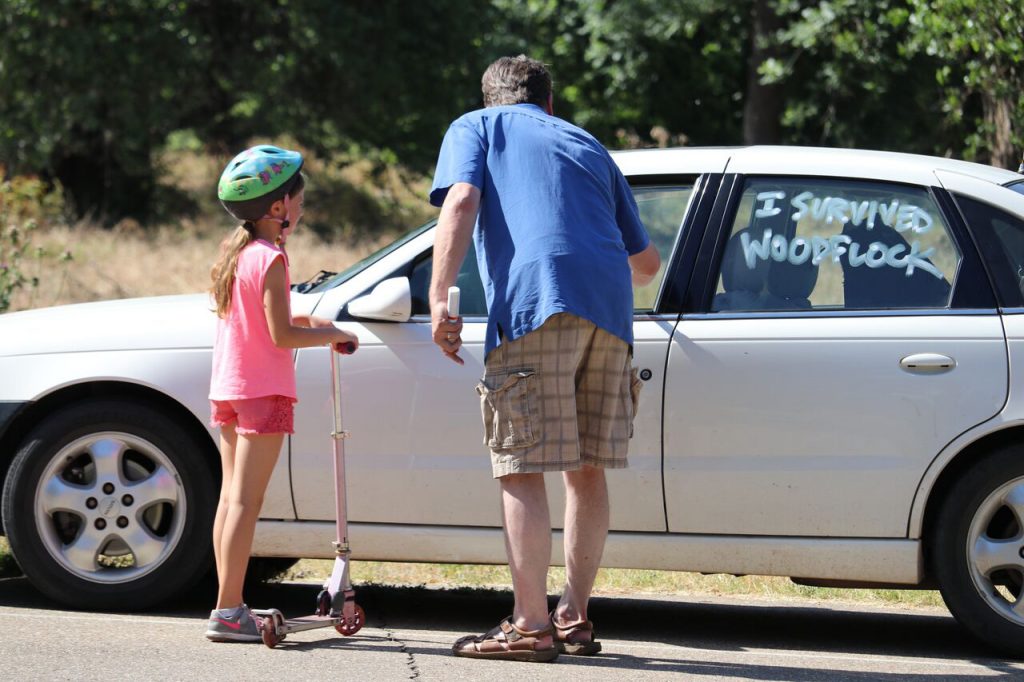 August 5 – 8, 2021 • $449/person. Children under 12 free with paid adult CLICK HERE to get in on it!
* Cancellation policy: Refunds issued up to 30 days before event minus a $100 cancellation fee. Half refund issued up to 14 days before event minus $100 cancellation fee. No refunds 7 days before event. Refunds may take up to 45 days to issue. Deadline has passed for 2020 event refunds. Those who signed up for Woodflock 2020 and did not request a refund prior to August 31, 2020, your fees are still good for the next three years, and you will not be subject to price increases should they occur. Thanks to all of you who held on with us through this crazy time. Let's get back to the business of having fun.