Woodflock 10 has some exciting new changes! Scroll down for all the info.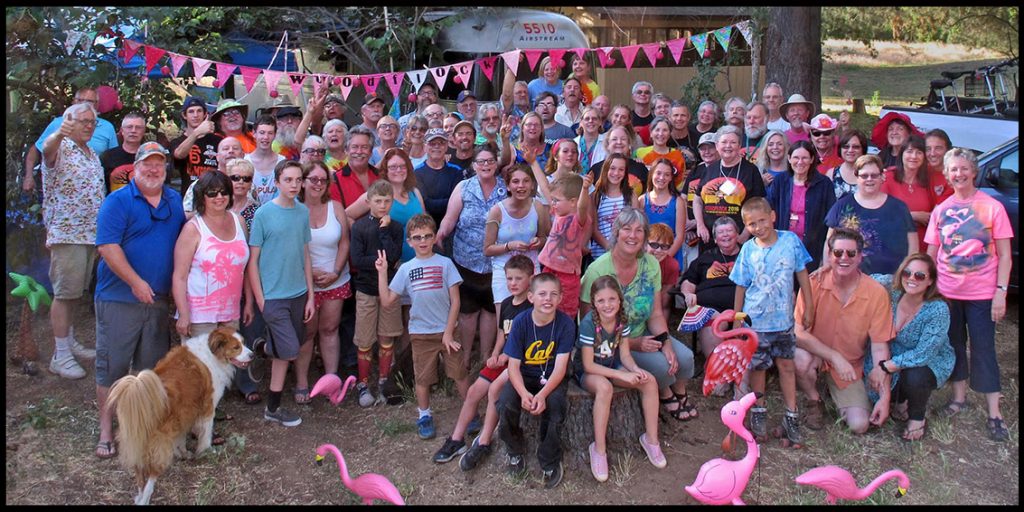 This is our 10th Anniversary of Woodflock, the Flamingohead Family Reunion we host each year, and we are excited to share some positive changes with you. (Ten years… is that an aluminum anniversary? I think it is.)
Memorial Day Weekend, May 23 thru 26, 2019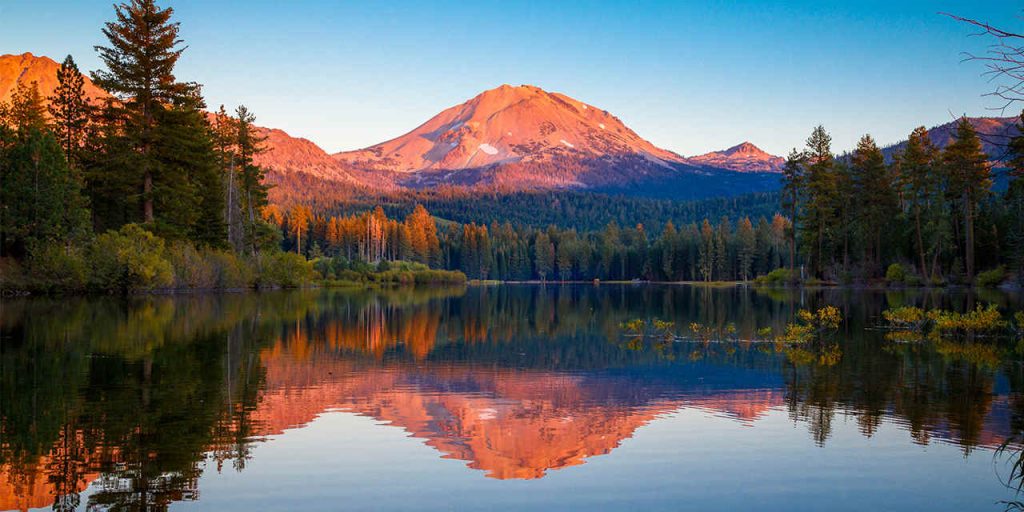 Three whole days of music, laughter, crafts and family under the pine and fir trees of Northern California, featuring Antsy McClain and The Trailer Park Troubadours, Sourdough Slim, Michael McNevin, Rachel Garlin and Late for the Train! (Details on those artists below.)
But WAIT! That's not all! For the first time ever, we are offering an extra night for early birds. If you want to come in early, Antsy, Uncle Fred and Woodflock staffers will be there to greet you on Thursday and help you get settled. Uncle Fred will grill up some hotdogs and hamburgers and we'll gather around the fire thereafter for music.
Price includes cabin if you need one (while they last), breakfast and dinner daily, all the entertainment and workshops, guided meditation after breakfast and all the good mojo you can soak up in three (or four) days.
Where: Camp Tehama Campground, Mill Creek, CA, 40550 Highway 172, Mill Creek, CA 96061
Located just 45 minutes east of our former location in Red Bluff, Camp Tehama is on the edge of beautiful Lassen National Park, home of some incredible volcanic rock formations, hot springs and scenic lakes.
As this is our 10th Anniversary, we are inviting more of our talented friends to help celebrate! Here is a list of our performers:
Antsy McClain and members of The Trailer Park Troubadours – Singer/songwriter Antsy McClain, along with "Loose Bruce" Wandmayer and "Hot Rod Todd" McMasters, will be performing throughout the weekend, conducting music, writing and creativity discussions. Antsy McClain is a singer/songwriter, author and artist whose humble upbringings in an American trailer park has generated some of Americana's most humorous and poignant songs. Years ago, Antsy envisioned a small gathering of friends (he doesn't like the word "fan") where music and laughter would echo through the woods and friendships would be forged. With the help and support of a handful of staffers still engaged in making Woodflock a success, they have gone from a few dozen people the first year in a quaint little camp in Red Bluff, to busting out at the seams and having to change locations. There will be around 130 people attending this year, coming from 11 states and Canada, at last count.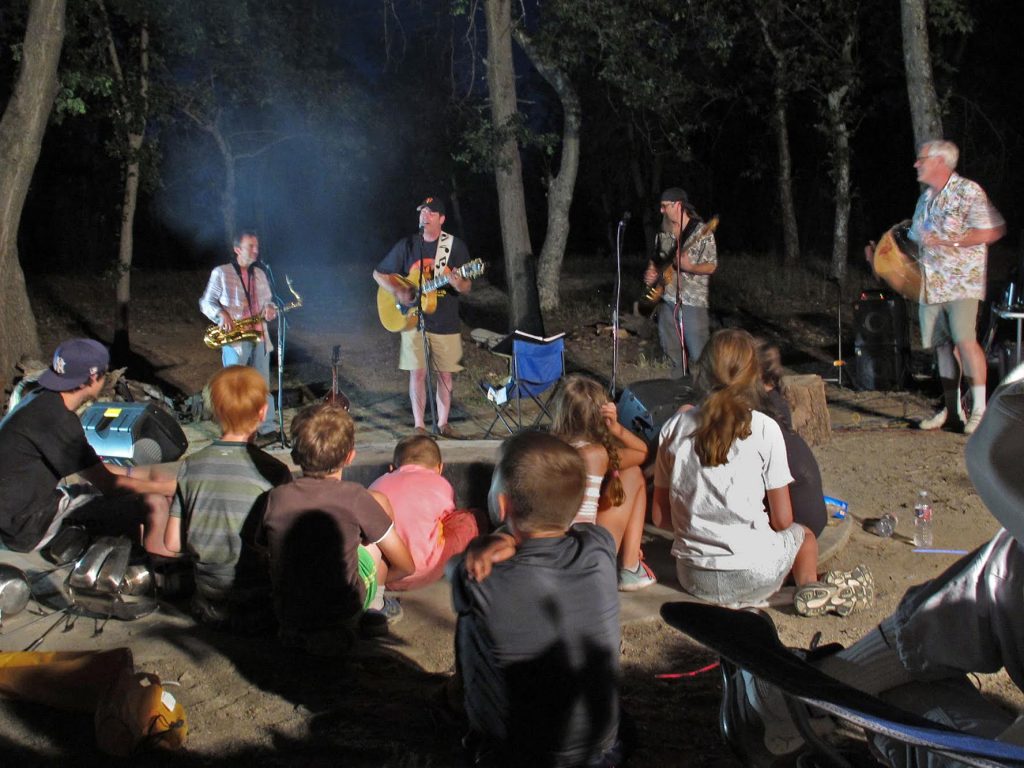 Sourdough Slim with Robert Armstrong – Back by popular demand, Sourdough Slim will be bringing his unique music and humor to Woodflock again, accompanied by our friend Robert Armstrong. His last show at Woodflock was met with a well-deserved standing ovation. Patterning his character from Vaudeville and early 20th Century cowboy movies, Sourdough Slim draws on his solid musical prowess, comedic timing, expert rope tricks and one helluva yodel. Robert Armstrong plays anything you set in front of him, especially if that thing has strings. An impeccable musician with a wry sense of humor himself, Armstrong is the perfect sideman to Sourdough's brilliant showmanship. They perform on Sunday.  http://www.sourdoughslim.com
Michael McNevin – Woodflock favorite Michael McNevin is back with Pat McClellan on upright bass to perform throughout the weekend, and head up those after-hours jam sessions that are always a lot of fun. McNevin's songs are unapologetically sentimental while not being sappy or overworked. Drawing on his formative years in the small town of Niles, California (where he still lives), McNevin paints poetic portraits of an America we all recognize, but one from which we may have strayed. But in McNevin's nostalgic narratives, we feel hope even in the face of certain change. http://www.michaelmcnevin.com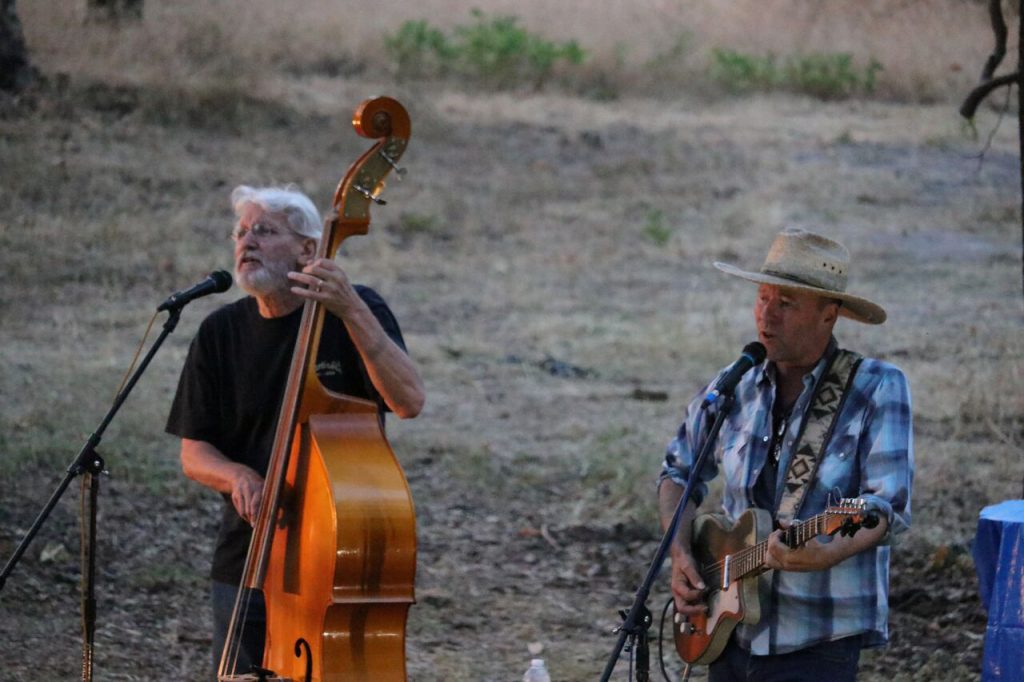 Rachel Garlin – Francisco-based singer/songwriter Rachel Garlin is making her Woodflock debut this year, and you're gonna love her. Antsy and his wife, Deana Lynn met Garlin at a songwriting camp in January, and they loved her natural, heart-felt approach to music and writing. After hearing her perform, they invited her to Woodflock on the spot. Her dedication to living a meaningful, creative life will have you in her spell as it does everyone who hears her. She performs on Saturday and hosts a writing/creativity workshop on Sunday. https://rachelgarlin.com/music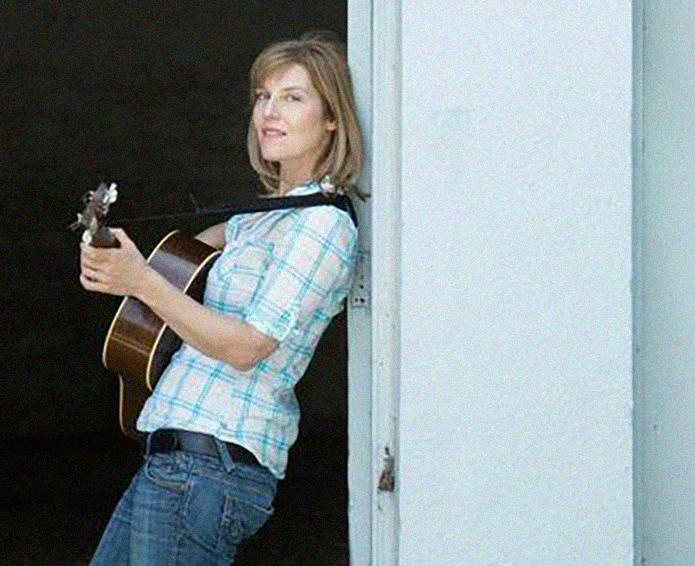 Late for the Train – Musical duo David Pascoe and Laura Benson perform under the name Late for the Train, and are multi instrumentalists who draw from a rich American folk heritage, combining it with the current music scene. They are also very cool and genuine people who have a passion for life that you will find contagious as we do. Simply said, we know they'll fit right in. They perform on Saturday and will join in on Sunday's workshops. https://www.lateforthetrainband.com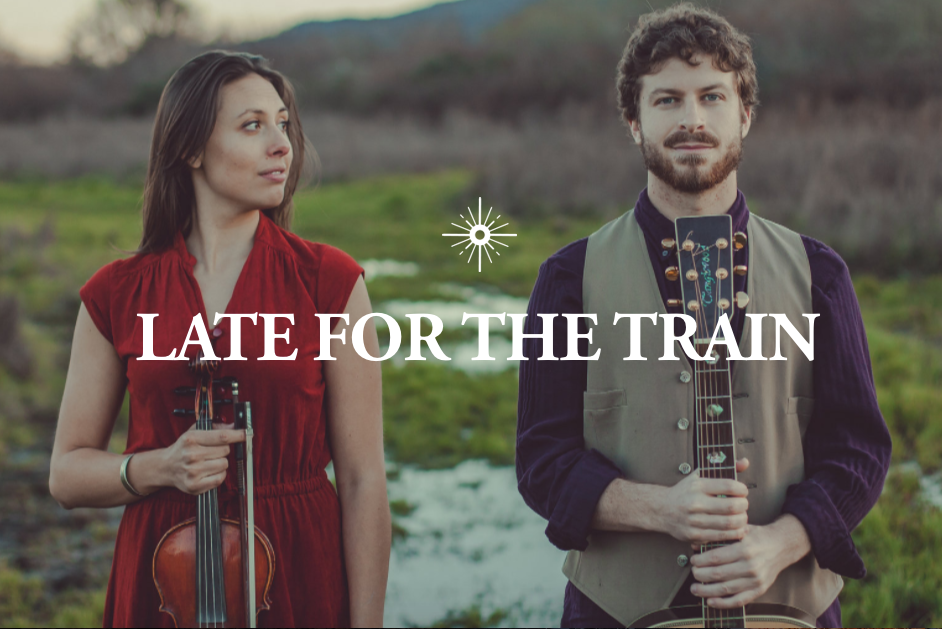 Memorial Day Weekend, May 23 thru 26, 2019 • Just $379 per person (Children under 12 free with paid adult) CLICK HERE to get in on it!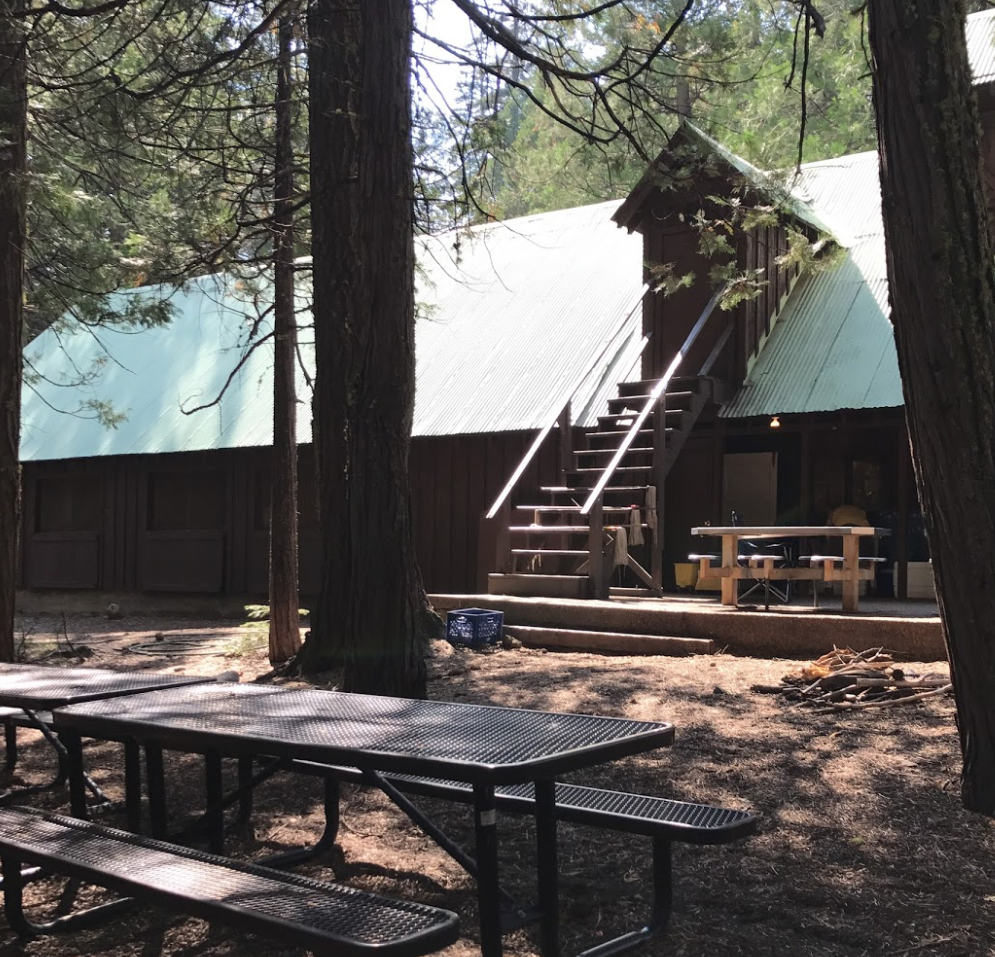 Catering – James Poplaski and his staff of Dos Tacos Catering out of Hayward, California are wonderful. We'll have a variety of cuisine offered, changing it up each night, from Italian to Mexican to Asian and maybe a few surprises in between. Dinners on Friday, Saturday and Sunday. Breakfasts on Saturday and Sunday. Lunch is on your own, as we don't want to disrupt the day's workshops and gatherings, but we're usually just fine with some fruits and a granola bar, etc. NOTE: There will be vegetarian options at all meals, but if you have allergies or other food restrictions, please provide for yourselves. (Thursday night is just Antsy and Fred grilling burgers and hot dogs.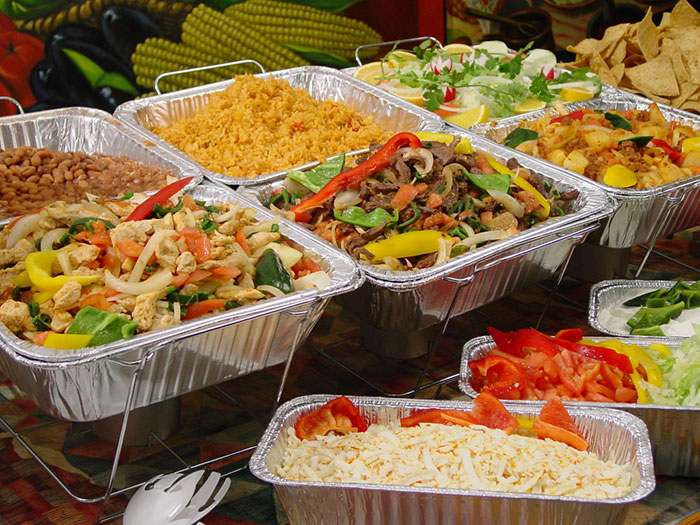 Arts and Crafts – The craft tent, always lovingly supplied by Katie and Bill, will be there at the center of activities. We'll find a nice shady spot for it as usual, and let it be the creative center we've known and loved for t-shirt painting, jewelry, lawn art, etc., these last 9 years. Thanks, Katie and Bill!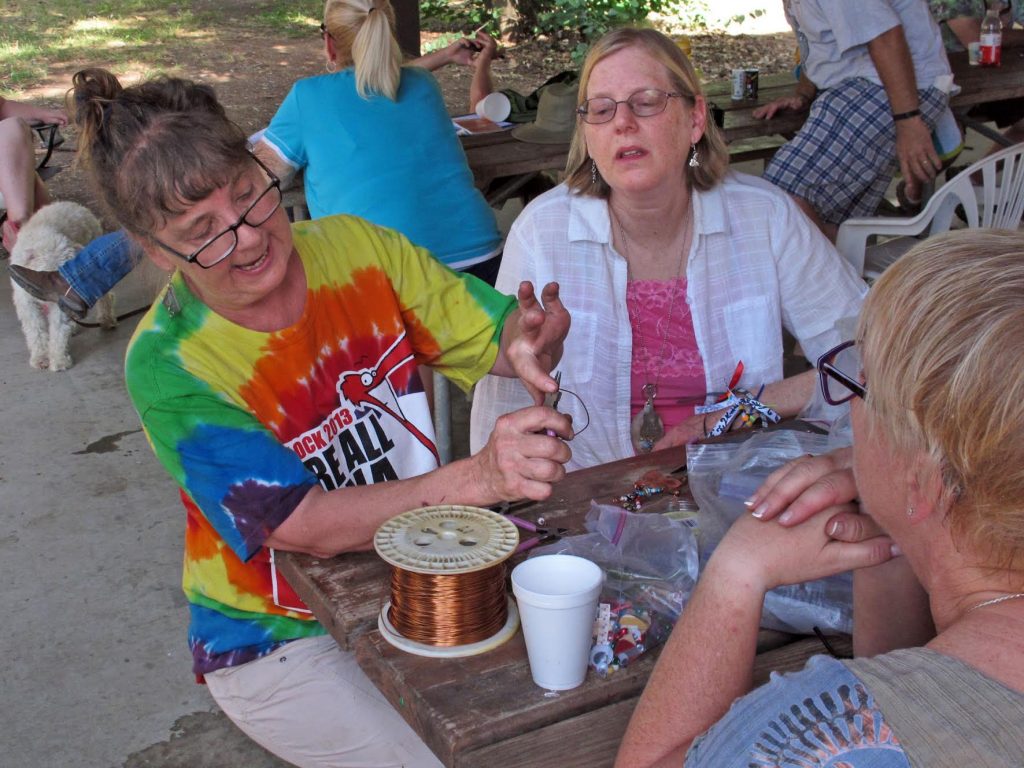 Fun and Games – James and Jacque have been on staff since our very first year, helping us with games and activities for all ages of Woodflockers. They'll be on hand as usual to help you get settled in, and have fun along the way.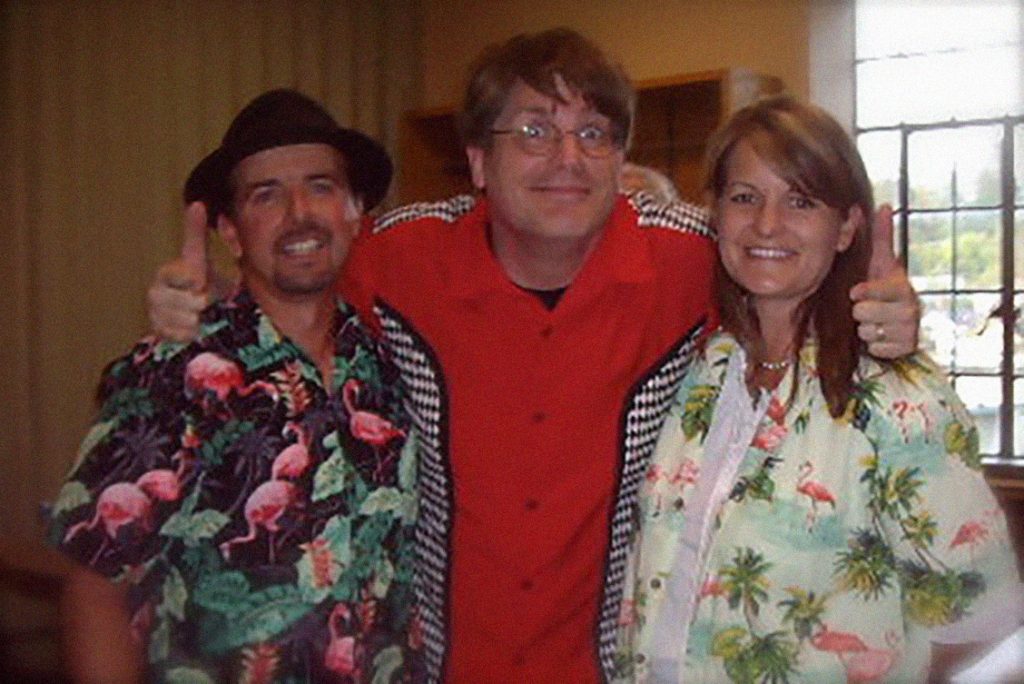 Guided meditation – Hilary and Bruce are joining us for their morning rituals of guided meditation and overall good mojo. There is a nice amphitheater at Camp Tehama with a fire pit, similar to the one we've had, and we'll gather each morning after breakfast for the start of each day.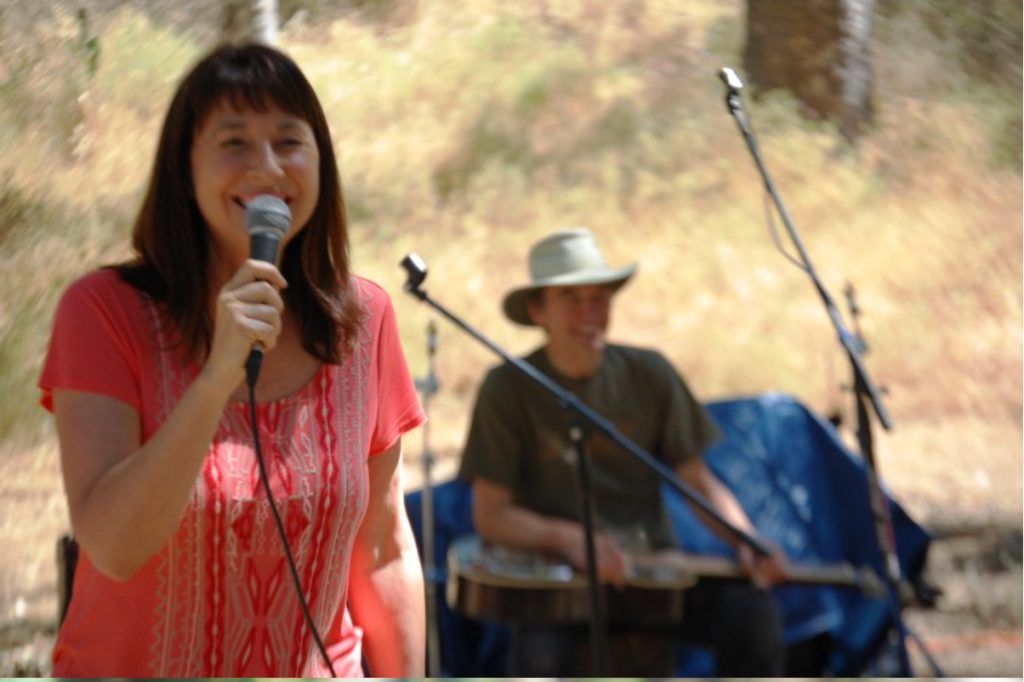 Memorial Day Weekend, May 23 thru 26, 2019 • Just $379 per person to help defray our expenses. (Children under 12 free with paid adult) CLICK HERE to get in on it!
NOTE: Pet policy change: Insurance concerns have forced us to implement a change in pet policy. As we have had some incidents with some of our canine cousins (staffers and guests have been bitten, dog fights have freaked out young kids, etc.,) we have to contain pets to the RV parking area only. You can bring Fluffy and Spike to Woodflock, but they can no longer accompany you in the other common areas such as concert, cabin and dining areas. When you take them out for potty breaks or walks, they must be on a leash at all times and kept in the designated area. Our insurance folks urged us to ban pets altogether, but we agreed to give this compromise a go, as we love our pets too, and we get why you'd want to have them with you. We appreciate your cooperation.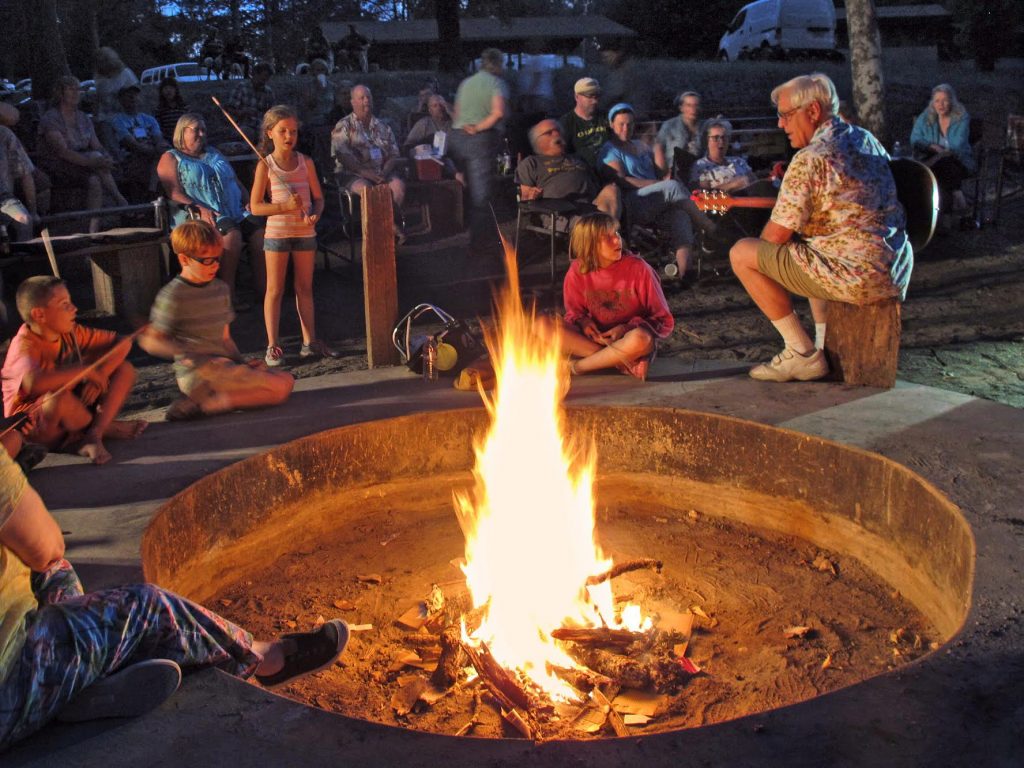 A cooler location and cooler vibe! – We heard you! Red Bluff can be too hot! This new location ensures we will never roast in the Red Bluff heat as we have in the past, and on the chance that it gets a bit chilly or rainy in Camp Tehama, we can retire to a lovely indoor lodge area for entertainment, workshops and dining. Camp Sycamore was nice when we started, but many of us lamented the removal of so many beautiful trees that gave us shade in the heat – not to mention the removal of those amazing giant Sycamores along the river. Camp Tehama, on the other hand, is canopied by a plentiful supply of pine and fir trees, with plenty of room around us for meditative hikes away from camp.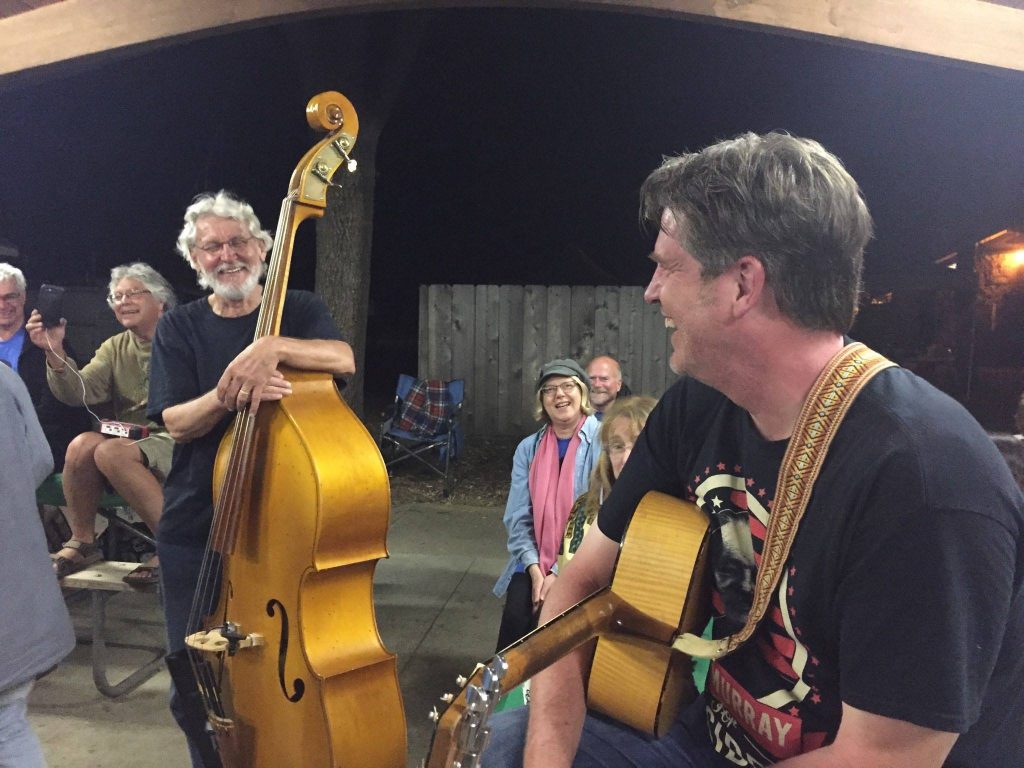 Say goodbye to plop toilets and porta-potties! – Comfortable bathrooms and showers are provided on site and we will no longer have to count our flushes, sweat in a porta-potty or endure the, um, fragrant experience of, shall we say, primitive plop technology. All of that is in the past. Those of you who may have enjoyed that, just let it go. Change is good. 🙂
RV's and cars must be parked in the designated parking area. They may not be connected to sewer, water or electrical. There are nice full service spots a mile or so away, and which will need to be reserved asap. Please e-mail Uncle Fred at xtrafred@gmail.com for reservation info.
Tents – We've always had a handful of tent dwellers in the center circle there at Camp Sycamore, and the lay of the land is, of course, different at Camp Tehama. Uncle Fred and staffers will be on hand as you arrive to help you find just the right spot.
Cabins – We have 20 cabins. Each cabin sleeps 7 with a cot in the center if needed. As always, bring your own air mattresses, pillows, etc., to provide your accustomed comfort level.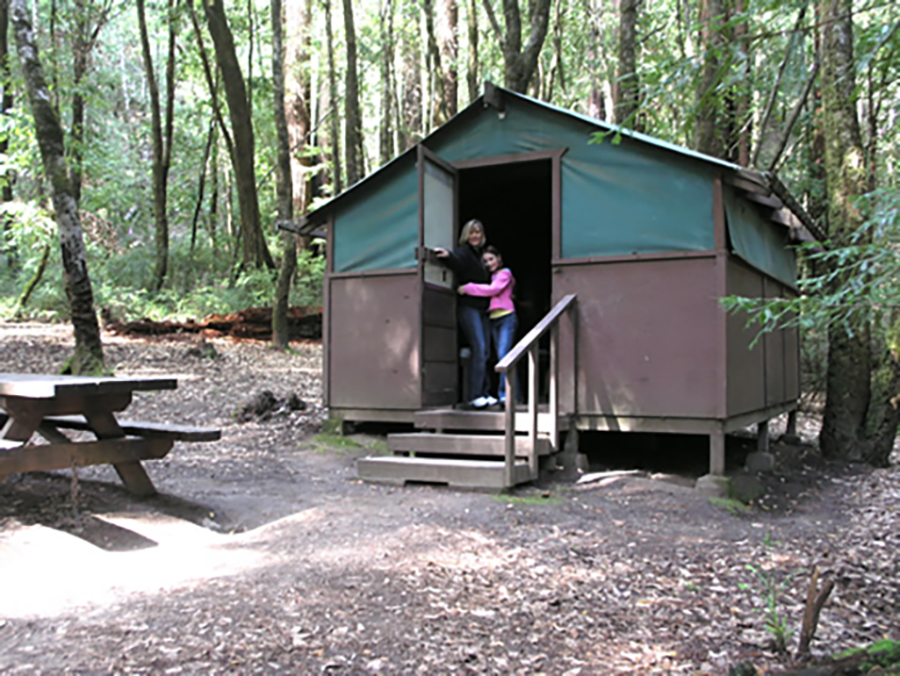 If you have any questions about any of the above information, you can e-mail us at thetroubs@unhitched.com and we will get back to you as soon as we can. For more urgent inquiries, call Uncle Fred at 530-529-3733.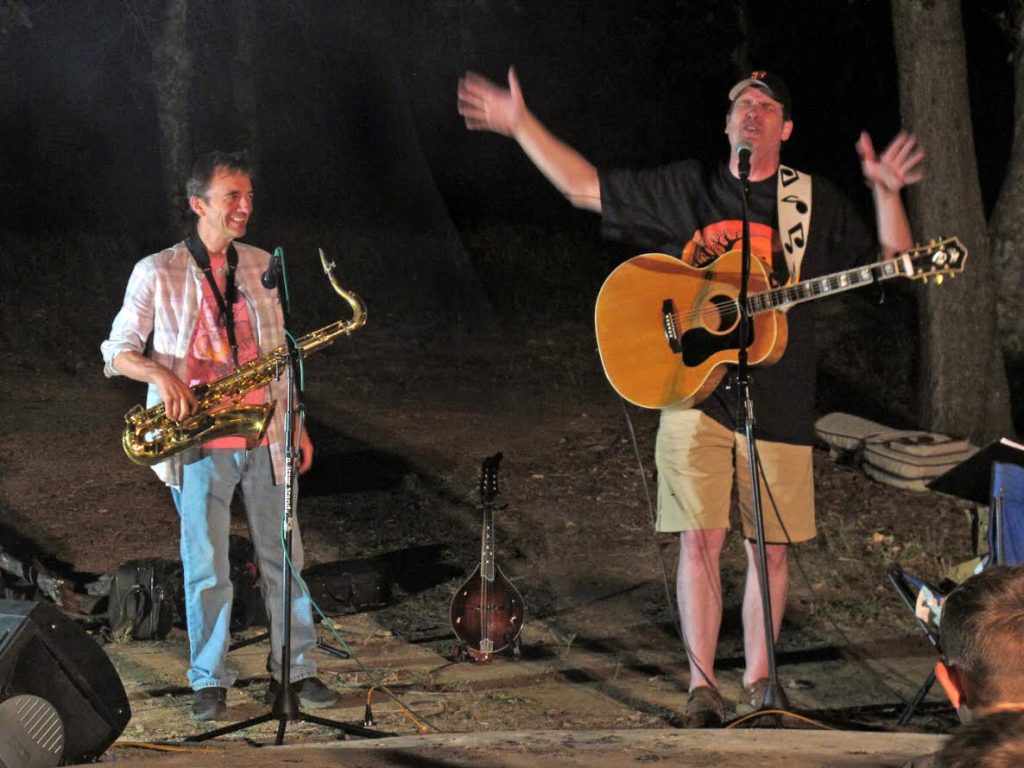 Thank you for your interest in Woodflock, The Flamingohead Family Reunion. We'll see you there!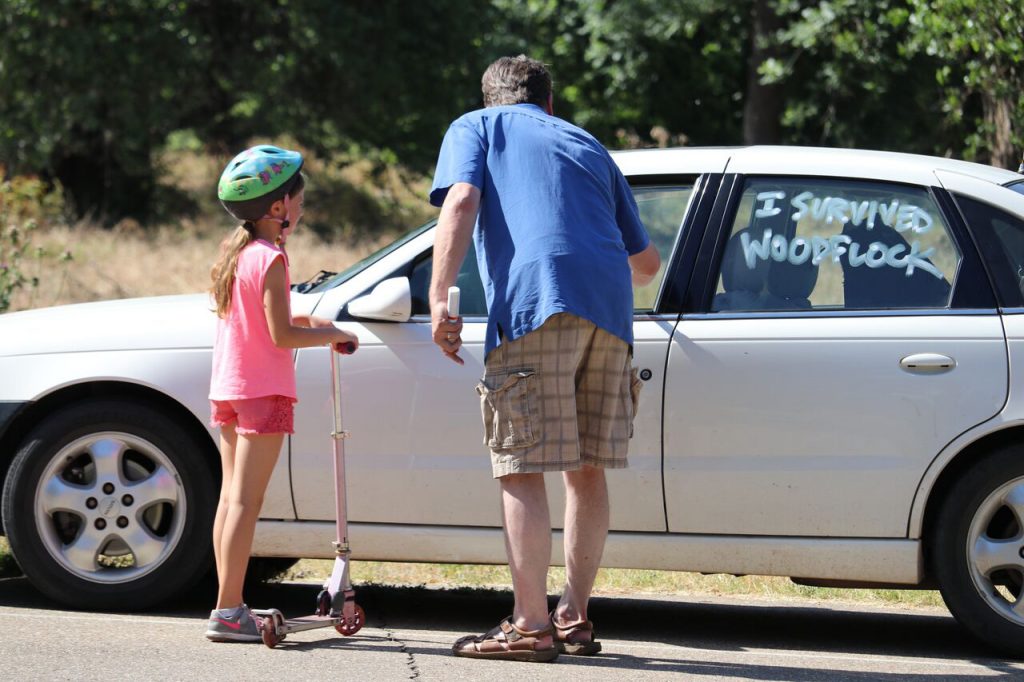 Memorial Day Weekend, May 23 thru 26, 2019 • Just $379 per person to help defray our expenses. (Children under 12 free with paid adult) CLICK HERE to get in on it!
Refund policy: Full refund up to 30 days before event. Half refund up to 14 days before event. No refunds 7 days before event.