Woodflock's 6th Year Will be Better Than Ever

Well, it's almost here! Just a few more days and Woodflock will be upon us. Antsy has often said it's the most fun we have all year. The gathering of people make this event the most rewarding thing we do as a community. We have a lot of friends helping us along the way, and Antsy, the band and all of the Flamingoheads are truly grateful for them and their tireless efforts to make Woodflock memorable and meaningful to all those in attendance.
If you haven't signed up for a cabin, but want to, don't delay. We only have a few left. We've had such an outpouring of good mojo concerning our Red Bluff, California Woodflock, that we are looking to Franchise it. Ha. Well, that may be too big a word for it. We're looking at a location near Nashville, Tennessee to host Woodflock East in the Fall of every year. We'll keep you posted, and as usual, your feedback is appreciated. Any ideas you might have for locations, or how to make the event be the best we can offer, will be appreciated.
Antsy and the Troubs are looking forward to seeing you all again, hanging out, catching up, and sharing our journeys along this winding highway we call life.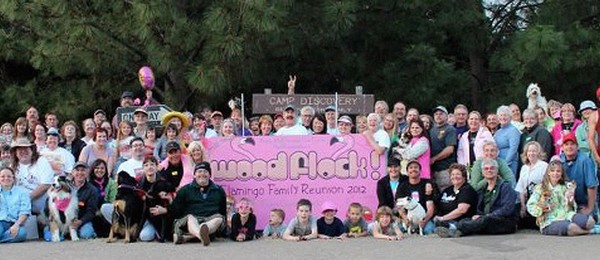 SPACES ARE FILLING UP FAST. This is shaping up to be our best Woodflock ever. Apparently if you do something 6 times, you're bound to get it right, huh? Woodflock is our favorite event all year. The best part comes in meeting and hanging out with folks who all have the same things in common: a love of music, a sense of humor, a desire to live authentically and "enjoy the ride." If you're one of those people, you should join us!
Just click
HERE
to get on board!
Woodflock is filling up! Space is limited. Join us!
Of course, Antsy and the guys will be bringing their usual music and humor with them. They'll be playing songs off their latest album, as well as the old favorites. And Sunday night's show is an ALL REQUEST NIGHT, as we do every year. You make the set list.

They'll be performing every night around the fire, as usual. Also throwing it in will be Antsy's dear friend, guitar master, Edgar Cruz on Friday night, the uniquely talented Sourdough Slim with multi-instrumentalist Bob Armstrong on Saturday night, and Sunday will be a few creativity sessions with Antsy and his friends.
Hands-on arts and crafts for kids of all ages will be provided by our friends Bill and Katie. They do a great job, and they donate all their time and supplies to the cause.
Every morning gets started with the wonderful Hilary Nicholls and her dobro-playing husband, Bruce Wandmayer. We are also offering Yoga hosted by Dave Emery this year directly following the daily meditation. Meal time will be fabulous, as always. Also, our friend John Chips will be bringing his Monster Grill with him for us to enjoy special meat and veggies smoked to succulent perfection.

This is a lot of stuff! We're thinking it's going to be our best Woodflock EVER! Join us! Click HERE for passes. We have day passes or you can join us for the whole weekend. You can bring a tent, stay in a cabin, bring an RV or stay at a nearby hotel. Details on the Official Woodflock 2016 Page.