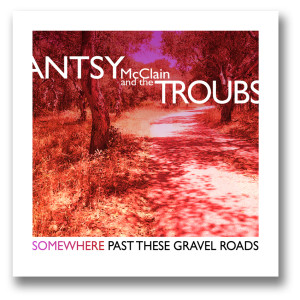 Hi folks,
I am thrilled to announce our new album, "Somewhere Past These Gravel Roads" is finished and off to manufacturing. This project is almost two years in the making, and has been a true labor of love, from the writing and crafting of the songs, to the sculpting of sound by my talented friends Bruce Wandmayer, Dan Becker, Todd McMasters, Terry Domingue, Ric Wilson, Dale Price, Gary Tackett and Eddie Mattingly. We are confident you will find this project to be one of our best, right up there with (name your favorite Troubs album). We're so excited to have you hear it and to have your feedback.
To celebrate, we are offering you a special PRE-ORDER PACKAGE including 1) CD, 2) digital download, 3) limited edition, illustrated booklet and 4) limited edition, customized art print. The digital download will be available Friday, September 25, the same day all the other items will be shipped to you. A link will be sent to all those who've ordered via email. The print and booklet are only offered as part of this pre-order package, and are available while supplies last. Everything will be signed and numbered by me and is all yours for only $50 PLUS S&H. Click HERE to order.
The customized, limited edition print is an11′ x 15″ charcoal drawing I did myself, and will hand render your names on the mailbox, making each print an original work of art, suitable for framing, dart throwing, place mats, lining your bird cage, wrapping fish, etc.  The line from the title song of the album is at the bottom: "A rich man dreams of paradise and sees a life like ours." The mailbox is blank until I draw your name on it personally.
Also to be included in the Pre-Order Special Package will be this 5" x 5" booklet, including 14 of my popular tree drawings and prose to go with the concept of the album, which takes the listener through a cycle of heartbreak to restoration to happiness in 14 songs. The album is being called " a collection of heartwarming, uplifting messages from a songwriter who has lived, laughed, lost – and is fiercely determined to love again." Each booklet will be signed and numbered by the author.
For those just interested in the CD, you may pre-order the CD and digital download without the print and booklet for $20 PLUS S&H. A link to the digital download will be e-mailed to you on Friday, September 25, and the CD will be mailed the same day.
Thank you!
As a musician and artist, I could never have gotten where I am without you, my friends and family. An artist creates for others, and you continue to give me the opportunity to do what I do. This complete package combines all of my efforts in music, art and prose. I hope you'll take advantage of this limited opportunity. Thank you all who have helped this become a reality.