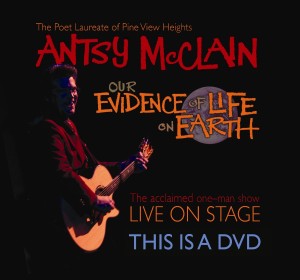 This is the DVD you have all been waiting for!  Live music, storytelling and more from Antsy McClain.  Recorded live in 2013 at the Center for the Arts in Grass Valley, CA, this features 16 tracks, including three with amazing multi-instrumentalist Joe Craven.
You can order it now RIGHT HERE!
This DVD was produced by Peter Berkow and Mike Hoopingarner.
Antsy McClain has become well known across the U.S. for his songwriting, story telling, and on stage performances. He brings laughs, smiles, tears and inspiration to thousands.  You can now have him in your home and enjoy the ride with Antsy every day!
If you want a little taste of what's included, check out the PROMO VIDEO below