Last weekend I had a fabulous time hanging with my friends again in Grass Valley at the California Worldfest and also at the beautiful  Theatre DeVille in Vacaville.
As always, the Flamingohead family was out in full force with their fun outfits, cameras and hugs. The Troubs were spot on and we had a great time.
At Worldfest I was up on the big screen…a new thing for me. My ADD kicked in as I could see myself performing out of the corner of my eye.  Took some getting used to. The guy on the big screen seemed to be performing better than the guy on stage.
Many of the Pine View Heights cousins brought their cameras and caught the action of the shows. For those of you that may have missed out, here are some of their shots and comments. (By the way, the feature photo of the Flamingo capo on this post is also courtesy of John Taber)
Thanks again to all who came out to the shows in Northern California.  We will be back soon and can't wait!!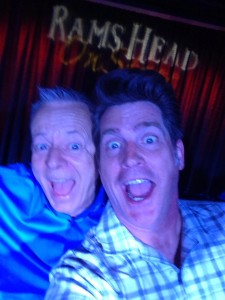 Just a reminder that I'll be hanging out with Tommy Emmanuel in Kansas, Nebraska, South Dakota, Montana, Washington and Oregon for Round 2 of our tour together.
The first show on this round will be in Wichita at the Orpheum Theatre. For more information and tickets, please visit my TOUR PAGE.
I am looking forward to renewing friendships with many of my midwest family and making new friends as well.
See you on the road!
Don't forget to abide by the Aluminum Rule: ENJOY THE RIDE
As most of you know by now, I have a new CD in the works and am offering you, my Flamingohead family and friends a chance to participate in this production. You can participate in my FLOCKSTAR Promo by clicking the FLOCKSTAR link below. And check out my BRAND NEW LIVE DVD. And you can get the new FLOYD FLASH DRIVE full of new studio material and some unreleased versions of my older songs. Just click on the boxes below to order.