Every songwriter has their 9/11 song. This isn't mine, although folks assume so. No, my 9/11 song is about living in a billboard. Ha.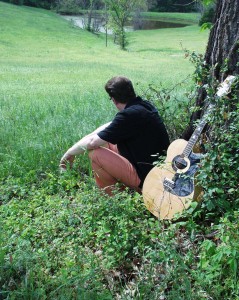 This song, Falling in Love in America, was written at nightfall in my upstairs studio when we lived out in the country alongside a babbling brook from which came a nightly choir of bullfrogs and crickets. My window was open as the summer night air came drifting in. I had this little guitar tune in my head, and the first two lines of the song written down for a long time. I had envisioned the lines starting a crime novel, ala Dashiell Hammet, but I'm no mystery writer. I write short stories set to music. So, "Her eyes were so warm and inviting, Like steamy diner windows on a cold, winter day," became the first lines of the song, and I went from there. I closed my eyes, and went there visually, in the dimly lit late hours of my home studio, while my family slept, and the house creaked softly around me.
The next lines come from a trip my wife and I made from Ohio to Kentucky when we were first married, with our baby daughter in the car seat in the back. The heater went out in our Volkswagon Jetta, and we huddled as close as we could to each other while the temperatures dropped to the low thirties for the 6 hour drive. Baby Lauren was fine, as we used every blanket we had to secure her warmth and comfort. She slept most the way. We, on the other hand had some very cold feet, hands, ears and noses upon our return.
But I changed the tone of those lines to reflect the feeling a boy has when he's on a date with the girl he loves, and he doesn't want it to end. "It's cold, but she loves me, so I had to stop time." I've been there. And all the dates of my teenaged years involve an old Chevrolet Impala I drove til it dropped dead.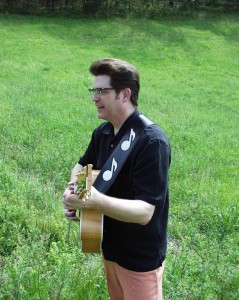 So, there are a lot of memories that come to me when I sing this song – every time I sing this song. It's like I'm reading an old journal entry. I'm there in that cold car with my wife, watching our breath, trying to stay warm. I'm there at the intersection of Murfreesboro Road and 6th Avenue in Nashville where the diner window was streaked with steam on that icy day in early January that first inspired the lyrics.
And when I get to the chorus, I feel it. I know we have our problems, and America isn't the center of the Universe. As I've traveled around the world, I see lovers of all ages, of all colors, of all walks, and I can't help but feel inspired by them, by love, and what they're experiencing. We are all lucky to have found love, wherever it may have been found, and wherever it may take us. For me though, it was here, along the creek beds, the side roads, among the corn fields and pastures where I grew up – in America, that I first tasted of the mystery and wonder of love.
It's no less mysterious and wondrous to me now all these years later. Probably even more so, to be honest. I don't understand all this. I'm only trying to walk my way through it the best I can, and share what I see.
May you all be happy in the love you've found, or in the pursuit of love that is right around the corner. Happy Independence Day, my fellow Americans, and to all of my friends elsewhere, may you have joy and love with the special people in your life til we meet again.