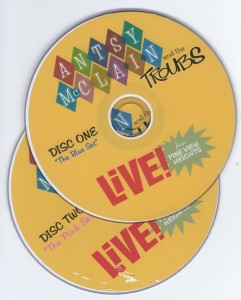 This two DVD set of the Troubs' PBS special, shot at the Mello Center, near Santa Cruz that was originally offered at the 2014 Woodflock event. This version is raw and unedited and is only available in limited quantities. This is the professional eight-camera shoot with audio mixed by Antsy's favorite sound man, Dale Price.
The two DVDs have more than two hours of LIVE Troubs and include over an hour of songs, out-takes, jokes, extended solos and clowning that will be edited from the broadcast version. This is the stuff true Flamingoheads love, so get your copy now before the very stock runs out.
When this limited batch sells out, the only DVD for sale will be the "official" one hour PBS show that will air on public television nationwide in 2015.
Due to time constraints, the epic nine-minute versions of songs like "Aunt Buela's Roadkill Overcoat" and "My Baby Whistles When She Walks" will be cut down to five or six minutes for national broadcast.
And some of Antsy's other great songs will be left off the national broadcast, because it must be only 55 minutes long.
Note from Antsy: You can see the entire performance on this DVD set, before it gets cut for national release.