(Editor's Note: As Antsy McClain has become more popular around the United States, and even in Europe, covers of his music are popping up on CDs, YouTube and Facebook. During the month of June we will feature videos with Antsy McClain music in them. Some are well done, some not so much…but YOU can be the judge. We will post them here.)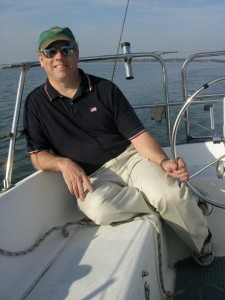 Our cover artist of the day is a retired Navy Officer residing in Ivor, Virginia. Tom Grigsby is a fan of Antsy McClain and has recorded a couple of his songs and given them to us on YouTube.  Tom loves boating, but is also an avid Remote Control Airplane enthusiast.
In this Antsy cover, Tom Grigsby sings Antsy's famed Ode to the Cooties, all about Larry…the "Last Man on Earth to Get the Cooties."
Sorry Larry…..