This article comes from Airstream Life magazine's website and was written by Rhonda Coleman. Of this article Antsy says "We had a wonderful conversation about the creative life, which she turned into this well-written, warm and personable article for Airstream Life's website."  You can see the original post HERE.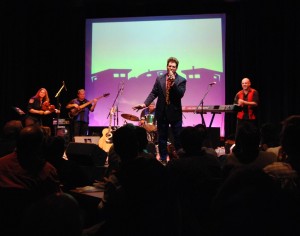 by RG Coleman
If you have an Airstream, you've probably heard the music of Antsy McClain. And you probably heard it in an RV park.
Airstreamers are among the legion of loyal fans—a.k.a. "Flamingoheads"—who follow McClain from gig to gig, rally to rally, across the USA. McClain's life affirming comedy, banter, and trailer park-themed songs have entertained enthusiastic audiences in city concert halls, at "Woodflock" (his own Memorial weekend gathering), various RV rallies, and at Airstream Life sponsored events like Alumapalooza, Alumafandango, and Alumafiesta.
McClain—who's been performing on the road for twenty years—says he was "listening to a lot of country radio and folk singers" when his on-stage persona came to him.
"I grew up in an American trailer park in a single wide mobile home," he said. "As a father and husband and family guy, those 'home and hearth' storytellers like Stompin' Tom Connors, Randy Travis, and Clint Black appealed to me. I've always been a humorist, and making people laugh has always been important to me. I thought, how can I incorporate that too?"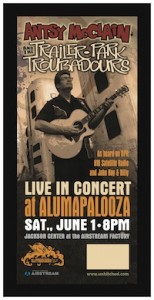 McClain developed "Pine View Heights", the fictitious trailer park that provides inspiration for his characters and songs. He was one of the first performers to create a realm for storytelling, "like Garrison Keillor does with Lake Wobegon on Prairie Home Companion," he said. "I invite the audience into that world."
You might not know that in addition to serving as "Custodian at Pine View Heights Trailer Park" (his Facebook occupation), McClain is a visual artist, as well. Before launching his career as a singer-songwriter, he was an award winning illustrator and graphic designer.
"I started drawing when I was five or six years old, or earlier," he recalled. "I drew on everything, even my school desks. They were covered with pencil drawings by the end of the day. My fifth grade teacher, Mrs. Smith—a very large woman—would get a bucket and sponge and plop it on my desk. I had to go fill it with water and soap and scrub off the drawings that I made that day."
As a kid he admired cartoonist Don Martin and the other Mad magazine artists. Airstream Life subscribers will soon get a kick out of McClain's own whimsical drawings that will illustrate his upcoming article, lampooning Airstreamers and the rally audiences he's performed for.
"It will be about the various personalities and types of Airstream owners I meet," he said. "If you've been going to rallies for years, like I have, you'll see the same personality types over and over again."
"There's the engineer, who tricks everything out and has all the most modern conveniences," he joked. "And the people who keep it vintage. If they have an Elvis record in their 1966 Safari, it won't be an album from his married years with Priscilla. Or they won't display Coke products past 1965."
McClain also kids about the retirees with brand new models and a "leave your shoes at the door" policy, as well as families "who don't mind getting their trailers dirty," he said. "They use them. They don't freak out when a hailstorm hits if the kids and pets are inside and safe. They enjoy it—it's all part of the trip to them."
"Airstreamers are different," he said. "They're proud, and why shouldn't they be? They've got the Cadillac of RVs." McClain notes that the group personalities vary. "It depends on the rally, and part of the country," he said. "When I played in Tucson, the older crowd was chill and laid back. At the birthday bash in Ohio, there's all walks of life, all ages. Minnesota is different. Florida is different. But most all have a gypsy vibe. What I like about Airstream people is that they get up and get out there," he said. "Airstreamers don't wait for people to tell them to get moving."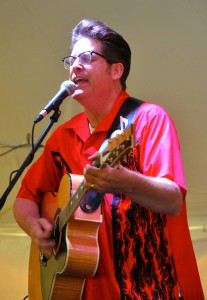 McClain mentioned a distinction that all Airstream owners share, though: fear of those hailstorms. "There's a special sense of panic when a Midwest t-storm kicks in during a concert at an Airstream rally," he said. "There's an energy in the room. It's a special panic. Airstreamers are freaked out!"
One such dramatic electrical storm swept over the Airstream factory when McClain was performing at the Alumapalooza event in Ohio. "We were shut down," he recalled. "It was late already when the storm rolled over. We had to leave the stage, and the audience went back to their trailers. There was no hail damage—that was a relief—and people came back to the stage tent after imbibing for an hour out in their Airstreams. Even more people came back than were there before! 'You're not done, and neither are we!' they said. We played another hour, until past midnight," he recalled. "You never know what will happen."
Musician, artist, writer, poet…like the classic Renaissance man, McClain (like many other professional creatives) excels simultaneously at several art forms. How does he explain this cross-discipline aptitude?
"We all do that," he said. "Most artists can. I think the parts of our brains that are lit up by looking at a painting are also lit up by listening to a musical piece that move us."
Though prolific and undeniably talented, McClain attributes his success to good old fashioned hard work. "I've gained more by sweat equity than by charm or luck," he said. "Things come to us, and it manifests as talent, but it's more akin to wrestling. You have to wrestle your opponent to the ground!"
"Our opponent is complacency," he explained, "and the opposition you face when you're trying to live a creative life. Or the distractions that get in the way of your work."
And work he does. Tireless McClain has produced a dozen CDs, DVD's, posters, prints, books and songbooks, t-shirts, and even an Antsy McClain and The Trailer Park Troubadours App that fans with mobile devices use to listen to music, view videos, and read blog posts and exclusive messages. ("Buy this," encourages the headline on the shopping page of his website. "It'll make you feel better.")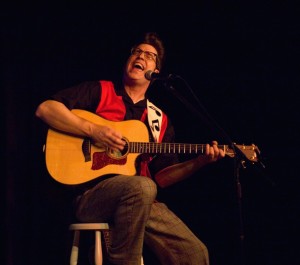 Though his live performance schedule hasn't slowed (in addition to upcoming dates in the US, his band will soon appear in London and at festival performances elsewhere in the UK), McClain has lately refocused attention on the new studio he's building on the grounds of his home near Nashville. "It's going to be colorful and bright, and I'll hang some of the abstract paintings I've been working on," he said. "It's where I'll be shooting videos and recording a new podcast."
The podcast format hasn't yet taken shape. "I'm still not sure," he said. "I might read from a funny diary entry and play a song that relates. Or, I have a lot of hilarious friends right near me; we might all sit around and talk about songwriting, music, what annoys us about touring." McClain also plans to interview people he meets on the road, and create video podcasts as he tours.
"I just like talking to people," he said. "Just sitting down with friends—oddballs and musicians."
Watch your TV listings this fall: McClain's band was chosen by a film producer in California for the upcoming PBS series, "Music Gone Public". A recent concert, filmed in Santa Cruz, is being edited into a 48 minute program that McClain will introduce and accompany on the air in selected cities during PBS pledge drives.
Opportunities of all kinds continue to come to McClain, and he sorts through them weekly. What are his hopes for the future? Commissioned artwork? New music? Something he's never tried before?
"I've been so lucky to have done what I've done in this short time," he said. "I've outreached the little goals I set for myself. It's been an embarrassment of riches. To ask the universe for anything more would be ungrateful!"
"So it doesn't matter," he said. "As long as it's creative and fun on a deeper level."
Over the years, McClain's audience has diversified and his world view has changed. "I'm more concerned with legacy than laughs now," he said. "I'm more interested with what I'll leave with people."
"It's not so much 'ha ha' and 'hee haw' anymore. It's about telling people that life is short. That their loved ones won't be around forever," he said. McClain encourages his audiences "to be present and authentic. To be here now."
"I try to get people not to film the concert too much, or take so many pictures," he said. "I ask the audience to take a minute to look to the left, and then look to the right. Because that's where the beauty is."
…
Catch a glimpse of Antsy debuting a new song for Airstream owners at Alumafandango in Oregon:
Sign up for Antsy's mailing list at unhitched.com . His monthly newsletter includes a personal letter, concert news, art, demos of new songs, and updates on the progress of his studio.
Join the family: Antsy is waging a campaign to be the individual on Facebook with the most cousins. ("I might already be there, I've got over 2,000," he said. "I approve cousins every day.") Send a family request along with your Facebook friend request to Antsy. Specify male or female cousin.