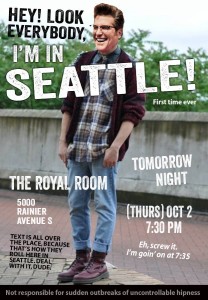 Antsy will be in the Northwest this weekend with his first ever Seattle show at the Royal Room on October 2, beginning at 7:30 PM.  You can get your tickets here for this show. On Friday Antsy then heads back to Spokane and the amazing Bing Crosby Theatre for his second show this year. Tickets are available here. He will close off the weekend in Boise, Idaho at the Sapphire Room on October 4. Boise Tickets are HERE.
If you have not seen an Antsy McClain show, then now is your chance! If you have, then visit anyway and listen to some of the new tunes that will be coming out on the upcoming album.
You'll be glad you did!!